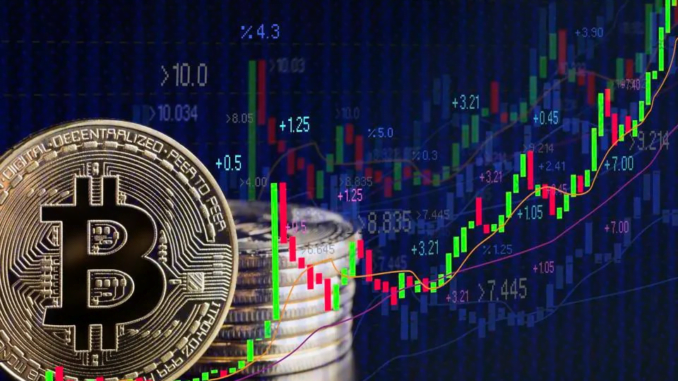 Join Our Telegram channel to stay up to date on breaking news coverage
The foremost cryptocurrency Bitcoin has continued to gain ground in the last 24 hours. So far, the virtual currency has surpassed $29,000 while recording a 1.57% spike in the same breath.
Bitcoin's impressive pushback to winning ways has also rubbed off on the broader crypto market. The nascent industry is up by 1.23% while pushing its market cap back to the $1.20 trillion valuation.
While the bulls are putting a new psychological threshold on Bitcoin crossing the $30,000 price target, a series of macro events have helped the crypto king regain its bullish momentum.

One such is Star Wars Day which is often celebrated on May 4th.
BTC Always Deliver Gains On May 4th
Created by George Lucas, Star Wars is one of the most popular sci-fi franchise movies ever aired.
To honor the franchise, Star Wars fans have inaugurated every May 4th as the unofficial day to celebrate it. The celebration is always widely publicized on social media platforms, with many online users greeting one another with "May the 4th Be With You."
#StarWars Day "May the Fourth be with you"

Star Wars Day on 4 May is an unofficial and informally observed day to celebrate the Star Wars media franchise created by #George Lucas.#Metagrave #NFTComminity #BTC #NFT pic.twitter.com/LTZXiE70xr

— MetaGrave (@metaGraveGo) May 4, 2023
While it may seem unrelated to the crypto market, May 4th has been famously associated with the season when Bitcoin price rallies.
A Twitter user detailed a rundown of potential gains from purchasing Bitcoin on May 4th since 2013, claiming that investors could have profited by a whopping 10,481% from the leading cryptocurrency.
A similar purchase in 2014 would have netted investors 2,133%, with a 4,007% gain recorded for 2015.
If you bought bitcoin on star wars day (May 4th) as of right now you'd be up:

2013: 10481%2014: 2133%2015: 4007%2016: 2080%2017: 533%2018: 0.3%2019: 66%

Not a single loss to date, may the 4th be with you. #Crypto#BTC #StarWars

— Simms (@cryptosimms) September 24, 2019
While this might seem far-fetched, Bitcoin has largely surged during this period.
At press time, the crypto asset is trading at $29,082.56, up 1.57% in the last 24 hours. While this might seem negligible, Bitcoin's long-term performance has left many investors on the edge.
On its seven-day price trajectory, Bitcoin has gained 2.37% while its monthly close is at 4.67%. Its three-month break is up 23.84%, while its six-month close is fluid at 37.55%.
Given Bitcoin's dismal performance in 2022, its year-to-date (YTD) performance of 75.86% shows that Bitcoin could be on a strong bullish wave even as investors celebrate Star Wars Day.
To substantiate Bitcoin's bullish streak, we turn our sights to its technicals. Its 50-day moving average (MA) value of $28,246.77 shows that the digital asset is on a bull run.
The 200-day MA price of $22,104.94 for the long term shows that Bitcoin is not making any plans to drop anytime soon.
On its relative strength index (RSI), the asset's oscillator figure of 53.85 shows that the virtual asset is in the underbought zone but is rapidly climbing.
Also, its moving average convergence divergence (MACD) points to a slow-forming buy signal even as momentum builds in the larger market.
Fed Rates Hike Boosting Bitcoin's Massive Appeal
While May 4th could be a catalyst for Bitcoin's bullish breakout, other macro events have lent a serious helping hand.
The U.S. Federal Reserve recently increased the benchmark interest rate for the federal futures fund by 25 basis points (25bps).
💥BREAKING: The Federal Reserve just announced a 0.25% interest rate hike.

— Crypto Rover (@rovercrc) May 3, 2023
According to the U.S. central bank Chair Jerome Powell, the continued increase is expected to curb inflation and keep it within its 2% annual figure.
The Federal Reserve just announced its 10th straight interest rate hike.

Remember: Relying on the Fed to raise rates puts the burden of fighting inflation mostly on lower-wage workers who are already hurting most from rising prices.

Stop raising rates! pic.twitter.com/DNVt7tjH0u

— Robert Reich (@RBReich) May 3, 2023
The Fed Reserve's recent increase comes on the back of a new U.S. bank closure in the case of First Republic Bank.
The bank, which JPMorgan has since acquired, witnessed large withdrawals leading to a weak balance sheet.
However, reports are also making the rounds that another U.S. bank is on the verge of collapse.
PACWEST now down 54% after hours. $PACW

Bank run is probably on for deposits. Probably will be closed on Friday by the FDIC.

We are just waiting for Jim Cramer to tell us it is a "strong bank" before we call this one as finished. https://t.co/Nkme5yNBCx pic.twitter.com/5VFU02WLwf

— Wall Street Silver (@WallStreetSilv) May 3, 2023
Following the announcement of the interest rate hike yesterday, Bitcoin crossed $28,700 and has continued to surge in value.
The continued failure of the traditional financial space gradually signals to investors that decentralized currencies have the potential to be the way forward.
Given that it holds over 46% share of the crypto market, Bitcoin is seen as a natural recourse for investors seeking to protect their investments due to its deflationary nature.
The challenges of the traditional financial landscape could inadvertently play to the strength of the digital asset, helping it rise even higher to its former record high of $69,000 in the coming months.
Related News
AiDoge – New Meme to Earn Crypto

Earn Crypto For Internet Memes
First Presale Stage Open Now, CertiK Audited
Generate Memes with AI Text Prompts
Staking Rewards, Voting, Creator Benefits

Ecoterra – New Eco Friendly Crypto
CertiK Audited
Doxxed Professional Team
Earn Free Crypto for Recycling
Gamified Environmental Action
Presale Live Now – $2M+ Raised
Yahoo Finance, Cointelegraph Featured Project
Join Our Telegram channel to stay up to date on breaking news coverage