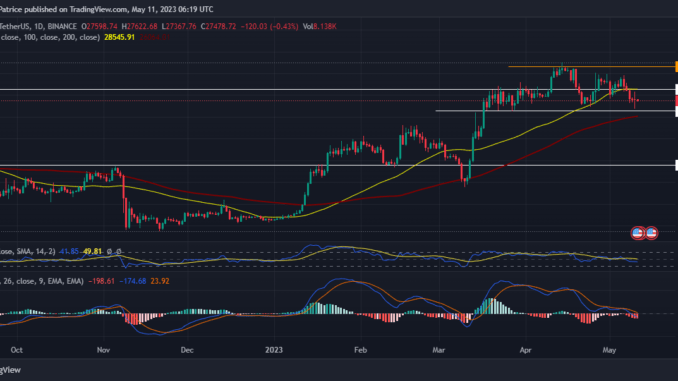 Join Our Telegram channel to stay up to date on breaking news coverage
Bitcoin (BTC) price is back in the $27,000 zone with no signs of an exit soon. The king crypto is consolidating between the $28,551 and $26,578 zone as market players hope for a significant catalyst to trigger a rally.
According to economists, United States unemployment claims could have a bearing on Bitcoin price as the number of Americans filing new claims for jobless benefits has been increasing. Nevertheless, as interest rates continue to increase, the U.S. labor market is gradually softening. Based on recent revelations, the U.S. economy added 253,000 jobs in April; the unemployment rate fell slightly to 3.4%.
We just learned we created 253,000 jobs in April.

That's 12.7 million jobs since I took office, an unemployment rate that is the lowest since 1969, and the highest share of working age people in the workforce since 2008.

My plan to invest in America is working.

— President Biden (@POTUS) May 5, 2023
The following is a description of how U.S. unemployment is a contributor to Bitcoin price. The Federal Reserve's (Fed) favored inflation index of personal consumption expenditure (PCE) ex-food and energy (otherwise referred to as core PCE) for the first quarter (Q1) increased by 4.9%. This was above the consensus estimate of 4.7% and the 4.4% recorded in Q4. While the more granular core PCE reading for March never indicated a startling hike, it also never indicated a decline, recording a steady 0.3% or 4.6% on a year-on-year basis. This thwarted resilience after almost five percentage points of interest rate hikes in a year.

U.S. Unemployment As The Biggest Bitcoin Price Contributor And The Wider Crypto Market In 2023
While higher interest rate hikes do not seem to bear fruit, it does not necessarily mean that the Fed will have to continue the increases. As the Fed has often reminded us, "the data moves with long and variable lags, with no guidance as to what 'long' means." Signs point to the acceleration in core prices seen in Q1 easing. Adding to the March numbers, the Cleveland Fed's Inflation Nowcast modeled April's core PCE steady at just above 4.6%. This could steer the Fed toward waiting to see whether more impact begins to manifest, which it is likely to do.
The likelihood is not obvious now as the latest employment cost index for Q1 came in at a slight increase of 1.2% quarter on quarter. Notably, this is the Fed's choice employment cost gauge as it considers benefits and wages, keeping it sanctified of any distortion by employment shifts among occupations or industries.
While the uptick was only 0.1 percentage points, its very existence was concerning, and the year-on-year increase was 4.8%, which is by far above the Fed's 2% inflation target. Nevertheless, there are signs of a cooling employment market, with the recent U.S. continuing jobless claims still showing an increase at the beginning of April. The last four readings showed an increase of over 6% from the four before. This cloud of retrenchments continues to depress market headlines and hint at a continued increase.
U.S. Unemployment Claims Could Pivot A Recovery Rally For Bitcoin Price
Bitcoin price pivoting around the U.S. unemployment claims could scale a recovery rally above the $26,578 support level. An increase in buying pressure above this level could see Bitcoin price rise above the $28,000 zone by shattering the confluence between the horizontal line and the 50-day Simple Moving Average (SMA) at $28,551.
Above this zone, bullish momentum could see Bitcoin price reclaim above $30K with all eyes on the $30,639 resistance level. A daily candlestick close above this level could solidify the uptrend for Bitcoin price.
The optimistic outlook for Bitcoin price is supported by the Relative Strength Index (RSI), which had just rejected the downtrend as bulls put their right foot forward to scale resurgence.
On the flip side, Bitcoin price failed to sustain its favorable reaction to the U.S. Consumer Price Index (CPI) reading. This could indicate that the bear market remains stronger, and BTC would need more than a macroeconomic to solidify a trend reversal.
The bearish outlook of the Moving Average Convergence Divergence (MACD) showed that a bullish season for Bitcoin price was nowhere close. Its position in the negative zone below the mean line showed that bears were comfortably in the driver's seat. The histograms were also soaked in red to show that the bears were in charge.
BTC Alternative
Switch your attention from Bitcoin price and consider ECOTERRA, the ticker for the Ecoterra ecosystem. This all-in-one Recycle2Earn application features recycling tokens and ecology actions. The Web3 platform is committed to promoting sustainability and fighting back against climate change. Upon its debut in the presale phase, the project raised over $28,000 in just under 24 hours.
Touted as an eco-friendly platform, Ecoterra plans to reward individuals and businesses just for recycling. At the same time, it incentivizes investment in alternative energy and tree-planting initiatives, qualifying it among the most promising blockchain-based solutions. This is for the global sustainability issue, as investors consider it a pillar in the fight against climate change.
During Stage 6 of the presale, investors can buy ECOTERRA, Ecoterra's native ERC-20 token, for $0.00775 USDT. That represents almost a 100% discount from the anticipated $0.01 list price.
Also Read:
Ecoterra – New Eco Friendly Crypto
CertiK Audited
Doxxed Professional Team
Earn Free Crypto for Recycling
Gamified Environmental Action
Presale Live Now – $2M+ Raised
Yahoo Finance, Cointelegraph Featured Project
Join Our Telegram channel to stay up to date on breaking news coverage