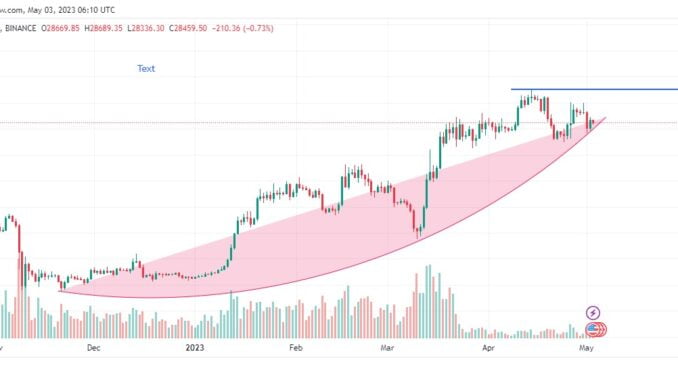 Join Our Telegram channel to stay up to date on breaking news coverage
On Tuesday, Bitcoin (BTC) experienced a surge in value during U.S. trading hours as investors noted the latest banking unrest and showed renewed interest in crypto and other assets that hold value. 
Anticipation of a U.S. Interest Rate Hike and Potential Impact on Bitcoin Price
The U.S. Federal Reserve is expected to raise interest rates by 25 basis points during the crucial FOMC meeting scheduled for May 3. This move would range from 5% to 5.25%, the highest since 2007. Fed Chairman Powell is set to announce it on May 3.
Many analysts predict that Bitcoin's price will experience a short-lived upward correction before the meeting, followed by a sharp decline after the interest rate announcement due to the anticipated increased strength of the U.S. dollar. As a result, Bitcoin investors and traders are on high alert, and the upcoming FOMC meeting is expected to be a nail-biting event.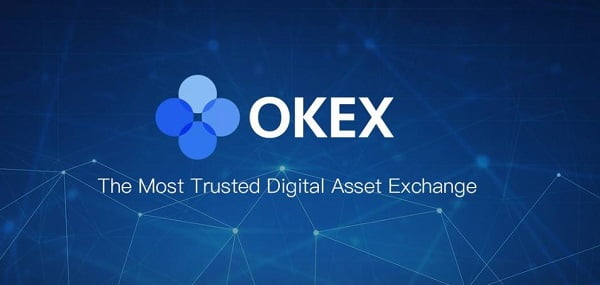 Bitcoin Market Price
At the time of writing, the price of Bitcoin (BTC) is trading at $28,493.55, with a 24-hour trading volume of $16,595,611,601. This reflects a 1.80% increase in price over the past 24 hours and a 0.50% increase over the last 7 days. The current market cap for Bitcoin, with a circulating supply of 19 million BTC, is $551,743,235,926.
However, there has been a recent decrease in market activity, with a trading volume of $15,356,013,069 in the past 24 hours, indicating an 8.50% drop from the previous day.
The all-time high price for Bitcoin was $69,044.77, recorded on November 10, 2021, over a year ago. This means the current price is 58.74% lower than the highest recorded price.
On the other hand, the all-time low price for Bitcoin was $67.81, recorded almost a decade ago on July 6, 2013. The current price is significantly higher, at a staggering 41,908.68% increase from the all-time low price.
Bitcoin Price Prediction – BTCUSD Chart Analysis
The price of BTC is picking up from its recent fall from its resistance level of $31400. The 50-day and 200-day moving averages are closely below the Bitcoin price. The 50-day moving average also supports the BTC price, which indicates that the price will be bullish. 
The parabolic curve is also an excellent indicator. The price of BTC is trading along the curve, indicating a move on the upside. There is a small positive aspect, as buyers are determined to defend the $28,000 support level. As a result, Bitcoin's price may fluctuate between $27,500 and $30,000 for some time.
If the range expands above $30,000, Bitcoin's price could climb to $31,000 and eventually $32,200. A break above this level would indicate an increase in momentum.
Investing in these Cheap Crypto Could Make You a Profit
AiDoge (AI)
The AiDoge presale has had a remarkable start, with investors flocking to purchase AI tokens. Within minutes of launching on April 25, 2023, the presale raised over $100,000. The following day, it raised an additional $200,000, bringing the total to an impressive $921,000 as of press time.
AiDoge has produced one trillion AI tokens, out of which 500 billion will be sold during the presale. The remaining 500 billion tokens will be allocated towards community rewards, vesting, exchange listing, and liquidity. The unsold tokens from the presale will be destroyed, leading to a reduction in the market capitalization of AI tokens.
📣 Attention #AiDogeArmy! 📣

Stage 1 of our #Presale has sold out within 1 week! 🔥

But don't worry, the second stage of our presale has just begun! ⏰

Get your hands on some $AI now!💰💸💎👉 https://t.co/5j5tt4smcs#AiDogeArmy #CryptoCommunity #Memecoins #Altcoins pic.twitter.com/VCB6Vt0wMF

— aidogecrypto (@aidogecrypto) May 1, 2023
Early investors are now being offered the lowest price of $0.000026 per token during the presale, with the price increasing as each step is sold out. Following the presale, the AI token will be listed on centralized and decentralized exchanges at a price of $0.0000336.
As a result, stage one investors will receive an immediate 30% increase in their investment. The AiDoge presale will accept several cryptocurrencies, including BNB, Tether, and Ethereum. Those without cryptocurrencies can also use credit cards to purchase AI tokens. A guide on how to buy AI tokens is available for interested buyers.
Love Hate Inu (LHINU)
Love Hate Inu has successfully raised over $10 million from investors during its presale, making it one of the largest presales of the year. Currently, LHINU tokens are priced at $0.000145. 
Investors had the opportunity to purchase LHINU tokens at a discounted price of $0.000145 during the final stage of the presale. Early investors will sonn be able to claim their tokens at launch as teh token looks to be listed in various crypto exchnages where new investors can buy the token and wait for a possible 100X as predicted by analysts. 
Hey #LoveHateInu Crew!🐶

We know you're all waiting to claim your tokens!💰👀

You'll be able to claim them manually on our website at launch!💰🚀

Official date coming soon!🗓️📢

P.S. Prepare 20-30 $ETH for a smooth claiming process!💡💻https://t.co/Pu2Bo8WOUy#AltCoins pic.twitter.com/q8ZFVqtXSb

— Love Hate Inu (@LoveHateInu) May 3, 2023
Love Hate Inu is also running a voting competition to promote its native coin and platform. By choosing whether they love or hate Andrew Tate, voters can enter a free competition to win $10,000, with the winner randomly selected. The voting competition offers a unique opportunity to win a substantial prize while promoting the Love Hate Inu platform.
Based on various factors, it appears that Love Hate Inu is set for a bullish near-term future after the presale. $LHINU will reach a price of $0.00025, which is a 195% increase from its current presale price and a 72% increase from the expected exchange offering price. The Love Hate Inu team plans to generate recurring revenue through strategic partnerships by licensing its poll data to major brands, which could potentially support buybacks of $LHINU tokens and boost the treasury. 
Token buybacks could have a significant impact on the coin's price, making Love Hate Inu one of the most promising cryptocurrencies on the market today. Looking ahead, we predict that $LHINU could achieve a price of $0.00045. 
Ecoterra
The ongoing Ecoterra presale presents a unique opportunity for early investors to purchase tokens at a significantly reduced price of $0.007, compared to the listed price of $0.01. This offer will only last for the next 11 days until the price increases to $0.00775, so interested parties are encouraged to act fast. As of writing, the presale has already raised over $2.5 million out of its $3.1 million target.
Investors who take advantage of this offer could see gains of up to 150%. To participate in the presale, one needs to create a crypto wallet, connect it to Ecoterra, buy the tokens, and wait for the token generation event to collect them.
Attention all #cryto and #ecoterraio lovers, the $1500 giveaway is now live, Just follow three steps and win. https://t.co/U6Sa3au0NW

— ecoterra customer support (@ecoterra3r_Desk) April 25, 2023
Ecoterra is also hosting a giveaway worth $1500 USD in addition to its premium cryptocurrency presale. Interested participants can visit Ecoterra's website to find out how to win.
DeeLance(DLANCE)
DeeLance, a web3 recruitment platform, is offering a real-world solution to its users and promising significant returns to early investors. The token price is expected to rise by 112%, from the current price of $0.029 to $0.053 after the exchange listing.
Investors are showing a great deal of interest in the presale, which is progressing with bullish momentum, as many recognize the rare opportunity to multiply returns up to 112% within a few weeks. This is reflected in the amount of money being invested, with some investors contributing as much as $30,000 to the DeeLance project.
Hey DeeLancers! 👨‍💻

Ready to take your #Metaverse journey to the next level?

Hold #DLANCE token to unlock special privileges, premium features & discounts on gig deals in the Metaverse! ✨🙌

Join #DLANCE Presale today! ⬇️💎https://t.co/XHnTqVzeWf#crypto #Presale #cryptocoin pic.twitter.com/V1AcqBeIwX

— DeeLance (@deelance_com) May 2, 2023
The founder of DeeLance, Dommeti Kiran, has reported that the project has raised over $500,000 from bullish investors, and the token presale has already reached a milestone with over $300,000 raised in stage 1 and $587,000 in its current stage 2. With DeeLance offering attractive propositions and real-world solutions, FOMO is building, and no investor wants to miss out on this opportunity.
The current price of the $DLANCE token stands at $0.029 and will continue to increase until the end of presale stage 6. Interested investors can purchase the token using Ethereum (ETH), Tether (USDT), or via direct card payment using the Transak Payment network.
Related
Love Hate Inu – Newest Meme Coin
Decentralized Polling – Vote to Earn
Early Access Presale Live Now
Ethereum Chain
Mint Memes of Survey Results as NFTs
Staking Rewards
Viral Potential, Growing Community
Join Our Telegram channel to stay up to date on breaking news coverage