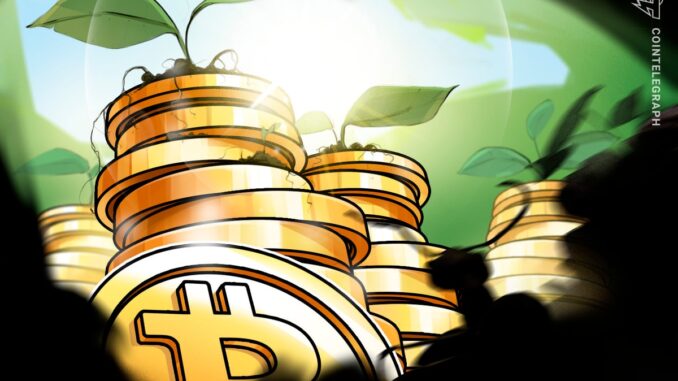 Fintech firm Block, owned by Twitter founder Jack Dorsey, has reported a staggering $2.16 billion in Bitcoin (BTC) revenue on its bellwether product Cash App in Q1.
According to a shareholder letter announcing its Q1 2023 earnings, Block (NYSE:SQ) reported that its Bitcoin revenue — which counts BTC revenue as total sales of the cryptocurrency to customers — was up 18% from $1.83 billion in Q4 and 25% from Q1 2022.
Our Q1 earnings are now available. $SQ https://t.co/oGcnRuzFb3

— Block Investor Relations (@BlockIR) May 4, 2023
Cash App's total profits reached over $931 million in the first quarter of 2023, marking a 49% increase year-over-year. Notably, Cash App's profit paled compared to the company's gross profit, which came in at $1.71 billion. Block also owns the popular business payment service Square, which reported a slight (3.8%) decline in profits from the fourth quarter of 2022.
According to the shareholder letter, the multi-billion-dollar Bitcoin revenues were driven by "an increase in the quantity of Bitcoin sold to customers," and were "partially offset" by a decrease in the market price of Bitcoin, compared to the same timeframe in 2022.

The fintech firm also reported an earning per share of 40 cents, beating analyst expectations of 35 cents per share by 14%, with its first-quarter revenue rising 26% year-on-year.
Speaking to investors in the earnings conference call, Block CEO Jack Dorsey identified both artificial intelligence and "open protocols" as technologies that would aid the company in proactively responding to the "significant shifts" in the global financial system He cited continued United States bank failures and de-dollarization as the primary culprits.
The equities market took kindly to Block's earnings filings. The fintech firm's share price briefly surged 5% to $63.50 in after-hours trading, before settling down to a 2.5% gain at the time of publication.
Related: Jack Dorsey's nano Bitcoin mining chip heads to prototype
This uptick marked the first instance of relief from a steady decline in Block's share price, which suffered a significant 25% hit following the release of a scathing report penned by famed short sellers Hindenburg Research.
On March 23, Hindenburg slammed Block for "systematically taking advantage of the demographics it claims to be helping," and declared that Block's success with Cash App only hinged on a "willingness to facilitate fraud against consumers and the government."
"Hindenburg is known for these types of attacks, which are designed solely to allow short sellers to profit from a declined stock price," wrote Block in response to Hindenburg's allegations. "We have reviewed the full report in the context of our own data and believe it's designed to deceive and confuse investors."
Magazine: Joe Lubin — The truth about ETH founders split and 'Crypto Google'