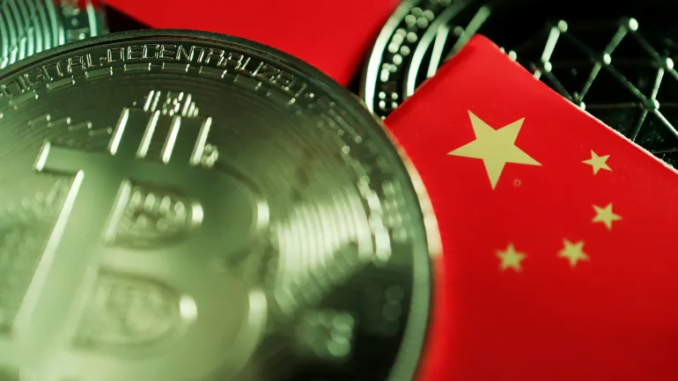 Join Our Telegram channel to stay up to date on breaking news coverage
In a recent tweet, Changpeng Zhao (CZ), the CEO of Binance, highlighted that China Central Television (CCTV), a state-owned channel, recently aired news related to cryptocurrencies. 
This event holds significance considering China's strict anti-crypto policy in place for the past two years. CZ remarked, "This is significant. The Chinese-speaking communities are buzzing. Similar coverage in the past has sparked bull runs."
China's Crypto Narrative Takes a Dramatic Turn – A State-Owned Channel's Impactful Broadcast
China hasn't been the same in the last couple of years. The country's previous dominance in the cryptocurrency market, alongside the United States, has completely vanished due to its comprehensive ban two years ago. It would only be surprising to witness any sudden resurgence in the crypto market.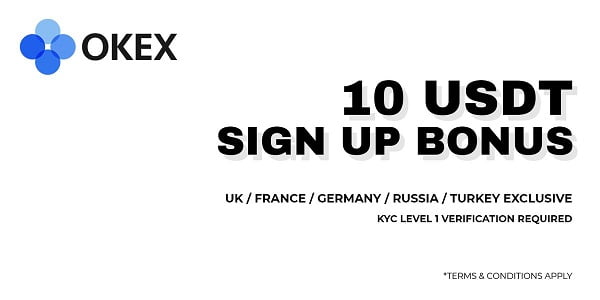 CZ's tweet coincided with the launch of China's government-backed Metaverse platform called the "China Metaverse Technology and Application Innovation Platform." This launch aligns with the Metaverse Strategy introduced in February this year, led by the Nanjing University of Information and Science Technology (NUIST).
This turn of events is indeed surprising for China, considering its longstanding opposition to cryptocurrencies. In April 2021, China initiated a crackdown on cryptocurrency mining establishments, leading to a major crash in Bitcoin's price.
The initial downturn caused BTC to drop to just under $50,000, and the decline continued following Elon Musk's announcement of Tesla no longer accepting BTC as a payment method. As a result, the cryptocurrency plummeted by 42% in two months, trading at $36,700.
By September 2021, China implemented a blanket ban on mining, trading, and usage of cryptocurrencies. CZ suggests that China's optimistic attitude could potentially hold the key to a bull run. Another well-known trader, lilili.eth, shares a similar opinion, stating, "The involvement of Chinese people doesn't necessarily indicate a bull market, but the absence of Chinese involvement definitely doesn't signal a bull market."
However, Wu Blockchain dismisses this possibility, noting that China has previously broadcasted crypto-related content. Nevertheless, Wu Blockchain supports Hong Kong's decision to allow retail investors to access licensed crypto exchanges.
The Impact of China's Recent Actions on Cryptocurrencies – Change in Outlook for Crypto?
Hong Kong's recent actions have been interpreted as a discrete trial conducted by China to assess the viability of regulating crypto service providers through thoughtful measures. Given China's substantial influence in the crypto ecosystem, any renewed interest in cryptocurrencies from the Chinese government would have wide-ranging consequences for all stakeholders involved.
CCTV's decision to air a segment on cryptocurrencies marks a notable departure from the stringent regulations enforced by authorities in China. Unlike the outright ban on Bitcoin mining and cryptocurrency exchanges, the segment presented a more balanced perspective, refraining from explicitly negative remarks about cryptocurrencies. 
It is important to note that although cryptocurrency ownership is permitted in China, the regulatory environment remains restrictive.
Additionally, Douyin, the Chinese equivalent of TikTok boasting over 1 billion users, briefly included cryptocurrency price quotes in its search index. Although these quotes were later removed, their initial appearance indicated a growing recognition of cryptocurrencies in mainstream media.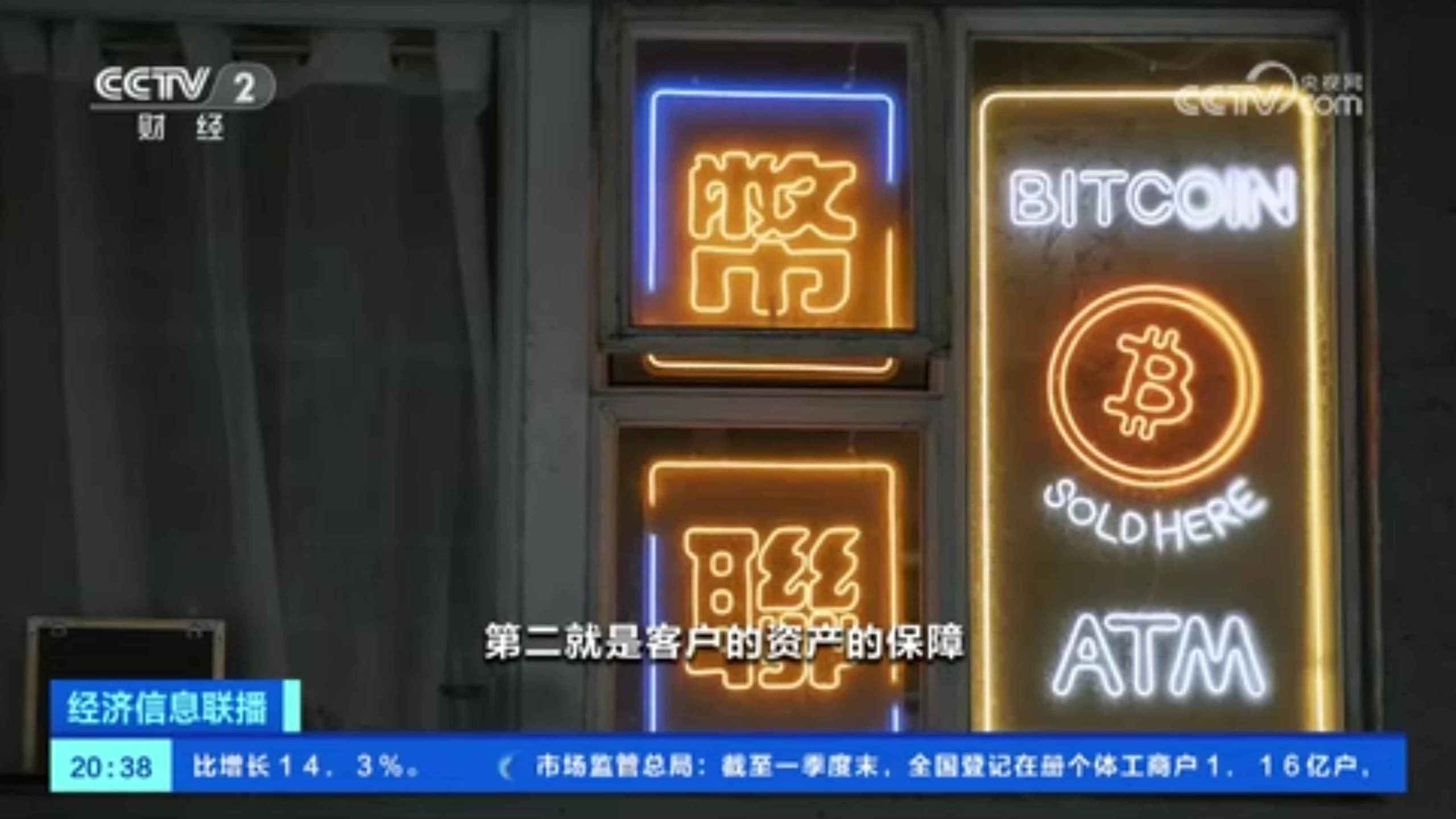 The impact of CCTV's broadcasts reaches far beyond the realm of the cryptocurrency market. China's influential position in shaping the future of digital currencies carries global importance. Being the most populous country and a significant economic force, China's regulatory strategy has the potential to influence trends on an international scale. 
Watchful observers will closely scrutinize any future developments to decipher the Chinese government's stance on cryptocurrencies and how it might impact the wider financial landscape.
Considering the current state of the cryptocurrency ecosystem and China's evolving position, this broadcast has the potential to ignite a market recovery. Market participants eagerly anticipate further clarification from Chinese authorities and will meticulously analyze any regulatory measures introduced in response to the growing interest in cryptocurrencies.
As China embraces the potential of digital currencies within a regulated framework, the global crypto community stands ready for significant advancements that could shape the future of this rapidly evolving industry.
US Debt Ceiling Concerns & China's Optimism on Bitcoin's Price Amidst Market Uncertainty
The US Treasury Secretary, Janet Yellen, recently acknowledged the stress in financial markets due to uncertainties surrounding the impending debt ceiling deal deadline. 
Yellen emphasized the high likelihood of the US government running out of sufficient cash in early June 2023. Any indication of a failure to reach a deal before the June 1 deadline could have severe consequences for financial markets, similar to the market crash of July 2011.
Additionally, top Republican Kevin McCarthy expressed that there has been no progress in talks since his meeting with US President Joe Biden. McCarthy is scheduled to hold a press conference on Wednesday, and it is crucial for a commitment to be made regarding efforts to avoid a default, not only for the stock markets but also for the crypto market.
While the possibility of a debt default may not be entirely favorable for a Bitcoin price surge, there is a chance of positive momentum in the crypto market based on recent experiences with the US regional banking crisis. Plus, the recent news about China's supposed optimism can help maintain a positive light on the sentiment surrounding Bitcoin.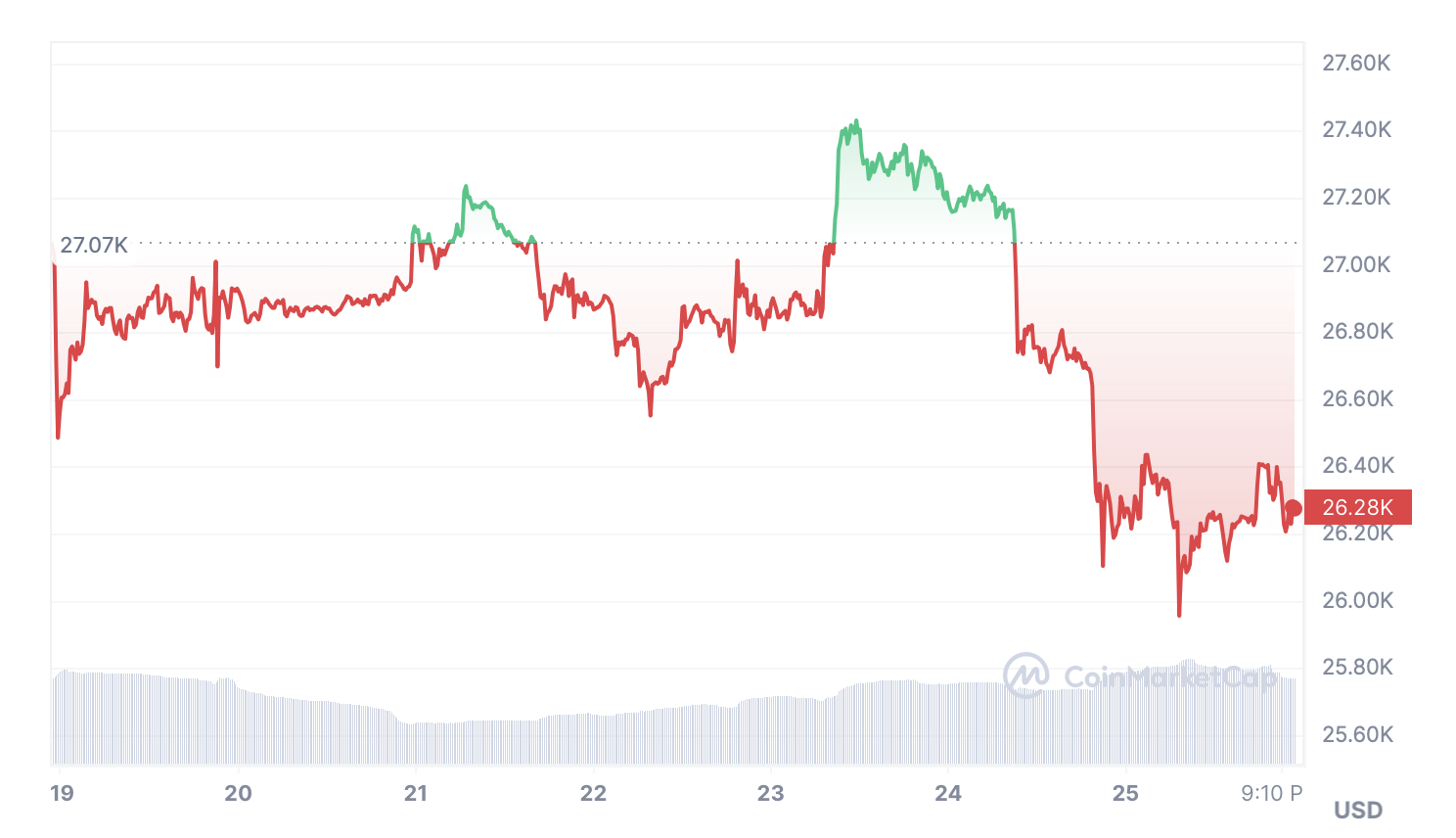 Bitcoin's current trading price stands at $26,240, experiencing a decline of over 1.8% in the past 24 hours. The world's largest cryptocurrency is currently testing the 100-day Exponential Moving Average (EMA) line as a potential support level.
Given that the Relative Strength Index (RSI) is in the bearish zone below the neutral line at 50.0, there is a possibility of further declines for the cryptocurrency.
In the event that Bitcoin loses the support of the 100-day EMA line, it could potentially drop to test the 200-day EMA at $25,000. However, if there is a daily candlestick close below this level, it may lead to a downward movement towards $21,500.
On the other hand, if the cryptocurrency manages to reverse its course and surpass the resistance level at $27,500, which aligns with the 50-day EMA, it could potentially continue its upward momentum towards $30,000.
Related Articles 
DeeLance – New Web3 Coin Presale
First Decentralized Freelancing Network
Find Employers in the Metaverse
NFT Marketplace, $100k Giveaway
Presale Stage One Live Now
SolidProof & Coinsult Audited
Join Our Telegram channel to stay up to date on breaking news coverage