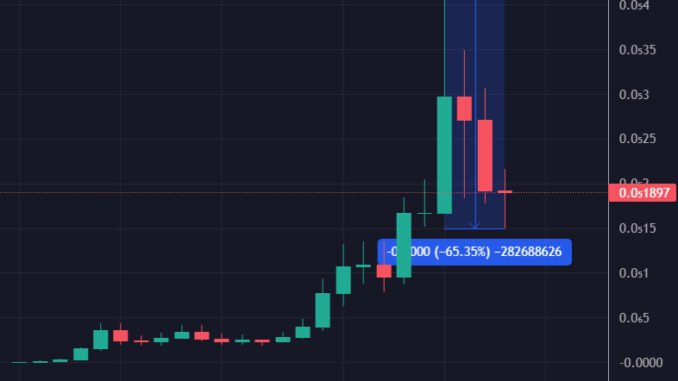 Delphi Digital newsletter writer and crypto analyst @cryptunez has made the bold prediction that the Pepe price rise will continue until it overtakes Shiba Inu as the second largest meme coin.
Today with a market cap back under $1 billion – approximately $750 million following the latest round of Binance FUD over it pausing withdrawals – his Pepe price prediction comes after a 65% correction from its current blow-off top.
Pepe Price Prediction – Current Chart
The most trending crypto token on CoinMarketCap will need to 7x from its price now in order to flip Shiba Inu in market capitalization – which has shed a significant percentage of its value in the past month, now down to just over a $5 billion market cap.
Alternatively the Shiba Inu price and market cap could keep declining – which @cryptunez has branded 'an over-valued, unoriginal DOGE clone who touts fake utility – not only the most overvalued asset in crypto, but the most overvalued asset in the world'.

Cryptunez' Shiba Inu Price Prediction
Having traded crypto since 2017 and built up 154,000 followers, Tunez tweeted May 9th:
His Shiba Inu price prediction is that it's overvalued due to its 'main selling point' of having a low token price that appeals to short attention span retail investors searching for the next Bitcoin – or next Dogecoin – also applies to Pepe coin.
Pepe's maximum supply of 420 trillion also gives it that enticing low price – currently just under $0.000002 per token, having hit as high as just over $0.000004 the day Binance announced they would list Pepe (PEPE). It also still has a low market cap, if the next crypto bull run is around the corner.
'$SHIB is a dinosaur meme coin that has lost its appeal and main differentiator in this hyper-competitive market of attention. the only narrative left is that it is overvalued garbage heading straight to zero.'
Dogecoin Price Prediction
While he didn't make a specific Dogecoin price prediction, he appears to be neutral to bullish on the Elon Musk favorite and think DOGE will stick around, stating 'if you want to buy a dog coin, you buy DOGE'.  Whereas the appeal of a low market cap, high supply coin he believes now firmly belongs to PEPE, not SHIB coin – as 'the money has been made' in $SHIB.
The Shiba Inu price has been in a bearish downtrend since its all-time high in October 2021, when it reached as high as an over $40 billion market cap, firmly within the top 10 cryptos – which Dogecoin still is, sitting in 8th with a market cap of $10 billion.
Tunez states the 'impact of $PEPE on crypto can not be understated', and that he 'fully expects $PEPE to flip $SHIB within 1 year', so before 2025. The next Bitcoin halving is forecasted to take place in April 2024, which could also be a bullish catalyst for the markets.
Read our latest Pepe coin price prediction post here.
Best Meme Coin Picks of 2023
We've also put together a top list of the dozen best meme coins, updated this month for newcomer $SPONGE that became the number one 'hot pair' on DEXTools, and two meme coin presales set to launch in 2023.