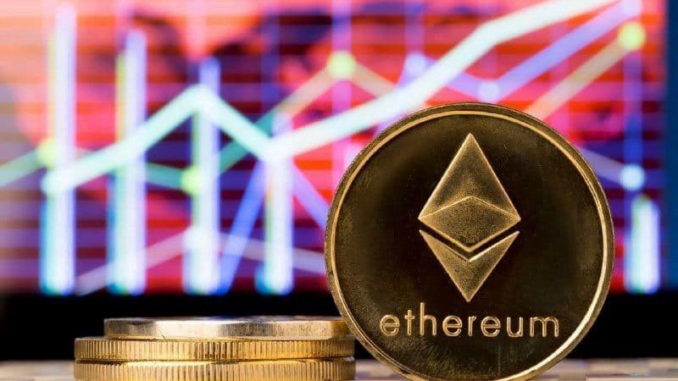 Join Our Telegram channel to stay up to date on breaking news coverage
The recent bullish momentum in the cryptocurrency market has waned, with the market losing 0.74% in the last 24 hours.
At press time, major crypto assets like Bitcoin and Ethereum had also lost 1.05% and 0.48% of their gains, respectively.
The pioneer blockchain smart contract network struggled for much of 2022 and closed the year with a price of $1,199.11. However, Ethereum seems to be doing better in 2023, starting the year with a price of $1,568.65 and currently at $1,810.43.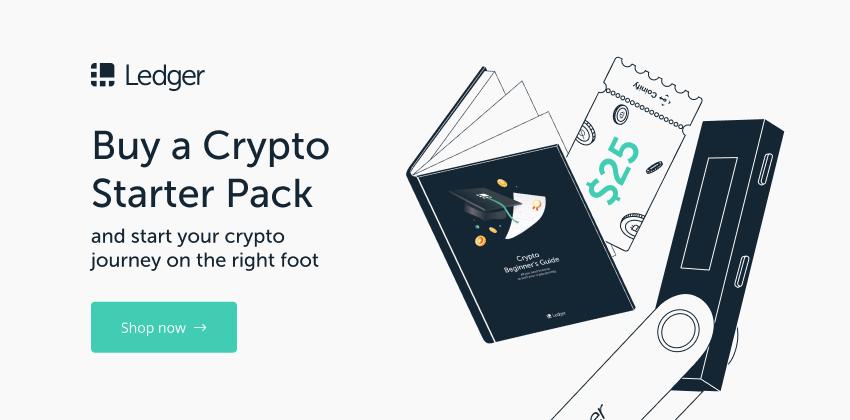 Could the digital asset recover as soon as the broader crypto market rallies and hits the $2,000 price level?
ETH Holds on as It Seeks to Rebound Towards Target Price
At press time, the Ethereum network token (ETH) is trading at $1,810.30, following a 0.48% downtrend in the last 24 hours, a 4.9% drop in the last two weeks, and a 12.8% decrease in the last month.
Prior to this, the second-largest cryptocurrency saw a 2.9% increase in price in the last seven days and is now pushing back into the green zone with a 0.10% increase in the last hour.
$ETH currently has a 24-hour trading volume of $5 billion, indicating a potential bullish run.
The recent increase seems to propel $ETH positively, as the technical charts indicate a bullish sentiment.
The crypto asset's current price sits above its 50-day simple moving average (SMA) value of $1,769.96 for the short term and its 200-day SMA value of $1,788.45 for the long term.
While $ETH may keep ahead of its moving average indicators currently, investors should still expect price fluctuations depending on market volatility.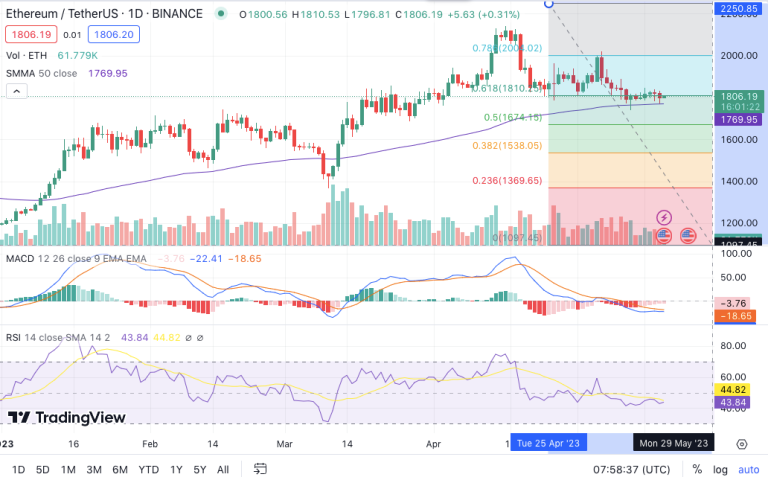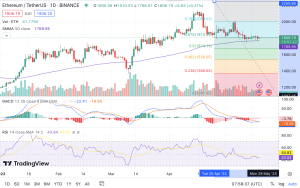 Based on technical analysis, the Ethereum coin (ETH) has found a foothold at the 61.8% Fibonacci retracement level of $1,810.25, which currently acts as support.
A steady bullish momentum and market rally could see $ETH rebound from this point towards the 78.6% Fibonacci retracement level of $2,004.02.
However, if the market slump persists, the crypto asset may drop to the 50% Fib level of $1,674.15.
The relative strength index (RSI) metric of 43.97 puts $ETH in the underbought zone. On the other hand, its moving average convergence divergence (MACD) trails below the blue trendline, reflecting a weak sell signal.
Ethereum Network Solidity Upgrades
Solidity recently released Solidity Compiler 0.8.20, the most recent version of their protocol.
Solidity, an object-oriented programming language created by the Ethereum Network team, was designed specifically for building and developing smart contracts on blockchain systems.
The most recent version includes many improvements to the programming language via the IR pipeline, as well as an expanded list of events exposed in the contract ABI and, most importantly, support for the Shanghai hard fork.
We just released Solidity 0.8.20! 🚀This latest version includes a range of improvements in the via-IR pipeline and improves the list of events exposed in the contract ABI, and, most importantly, support for Shanghai!📖: https://t.co/Asyc7wfDAo💾: https://t.co/iyPjddX8vr pic.twitter.com/iO9fzk1XHR

— Solidity (@solidity_lang) May 10, 2023
This is a significant advancement for programmers worldwide who use the Solidity programming language on Ethereum blockchain-based apps and smart contract ecosystems.
Furthermore, the more developers who join and use the Ethereum-based program, the more value the $ETH coin gains.
ETH Alternative Asset to Consider – AiDoge
Investors looking for an alternative to $ETH should consider AiDoge, a revolutionary meme coin that uses generative AI technology in its viral meme-making social media platform.
AiDoge offers investors the ideal balance of artificial intelligence (AI) and meme coin worlds. The project is creating a new web3-powered ecosystem that will allow users to share and vote on memes generated by other users.
Leveraging advanced deep learning algorithms, AiDoge analyzes vast repositories of meme data to generate witty captions and match them with relevant images.
The platform's ability to produce contextually meaningful memes is built on the same machine-learning AI technology that drives applications like ChatGPT and DALL-e.
🙈💼 The struggle is real!

While some people grind away at work, others are making bank with #memecoins like #AiDoge.

Don't get left behind! 🚀📈

Join the $AI presale while you still can! 😎👉https://t.co/5j5tt4smcs#Memecoin $PEPE $FLOKI $BEN $ELON $TURBO $JEFF pic.twitter.com/J5yfLHQH2t

— aidogecrypto (@aidogecrypto) May 19, 2023
The revolutionary new "meme-to-earn" model has piqued the interest of many in the crypto sphere, with the presale raising $9.7 million in just a few weeks.
The platform's native coin, $AI, is expected to be quite popular owing to its utilities, such as buying credits and staking.
At press time, $AI is selling for $0.0000312, and early investors will have profited 15% when the token is listed on the DEX and CEX platforms for $0.0000336.
Buy $AI Now
Related News
AiDoge – New Meme to Earn Crypto

Earn Crypto For Internet Memes
First Presale Stage Open Now, CertiK Audited
Generate Memes with AI Text Prompts
Staking Rewards, Voting, Creator Benefits

Join Our Telegram channel to stay up to date on breaking news coverage