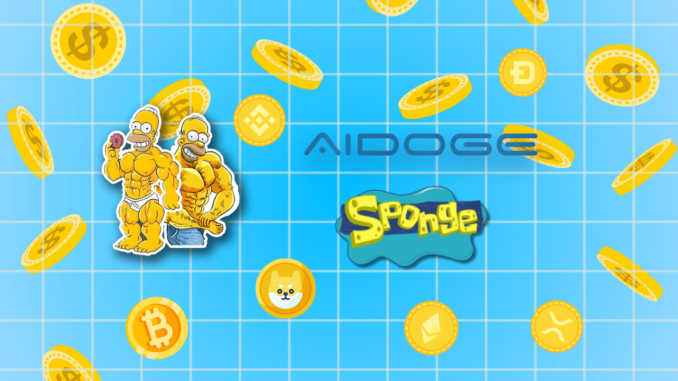 The world of cryptocurrency continues to be swept up in a meme coin frenzy that shows no signs of slowing down, with Homer Coin ($SIMPSON) exploding in value over the weekend.
$SIMPSON surged by around 18,000% as buyers clamored to find the "next big thing" in the meme coin niche.
However, Homer Coin isn't the only new project that's capturing the attention of crypto-savvy investors, with new contenders AiDoge ($AI) and Sponge ($SPONGE) potentially poised for an imminent price rally. 
Homer Coin's Meteoric Rise Stuns Crypto Investors
Homer Coin has skyrocketed from obscurity to stardom over the weekend, registering a price pump that left meme coin investors stunned.

This unexpected rally has put $SIMPSON on the map as one of the hottest projects in the meme coin niche – even obtaining a CoinMarketCap listing to boot.
Like the other meme coins that have caught the market's attention recently, $SIMPSON doesn't yet have any real-world use cases. However, the token does have a fully-fledged whitepaper detailing the developers' plans for the future.
According to DEXView.com, Homer Coin now has a market cap of over $9.2 million. 
In addition, more than $16.4 million worth of $SIMPSON has been traded in the past 24 hours, highlighting the growing appeal of the token amongst retail traders.
However, it's not just retail traders getting involved – crypto "whales" also appear to be getting in on the act.
Per DEXTools.io, seven buy orders valued at over $20,000 were placed for $SIMPSON in the past 12 hours. This hints that the market's "big hitters" want to add Homer Coin to their portfolios ahead of the next upward leg.
This decision could prove fruitful for these investors, given that Homer Coin is already beginning to attract a significant following. Over 6,500 people have followed the project's Twitter account in the past few days, which urges investors to "Get ready to say 'Woo Hoo!' to the fun and gains".
Homer Coin's meteoric price rise has also caught the attention of leading crypto exchanges, with BitMart and MEXC opting to list $SIMPSON – significantly boosting its accessibility.
Can $SIMPSON Push Higher in the Coming Days?
Investors are now wondering whether $SIMPSON can sustain its momentum – or whether the token was just a "flash in the pan."
Per Homer Coin's official website, the developers plan to add use cases soon. These include a Twitter-integrated chatbot and a Telegram AI bot.
However, the website has also appears to have been put together in a slap-dash manner, with contradictory information confusing prospective investors.
Towards the top of the homepage, the developers note that transacting in $SIMPSON attracts a low fee of 5% – then, near the bottom of the page, the "Tokenomics" section states that there's no transactional tax.

Moreover, the plans noted on Homer Coin's website differ significantly from what is indicated in the project's whitepaper – hinting that developers are unsure of which direction to move.
Ultimately, these characteristics have confused many investors since they suggest that the coin's creators have rapidly assembled the project to "cash in" from the ongoing meme coin craze.
Is AiDoge The Future of Meme Coins After Raising Over $7.5m?
The stage now appears to be set for AiDoge ($AI), a meme coin that combines humor and popularity with the latest artificial intelligence technology.
This meme coin is making waves in the crypto market, presenting itself as a promising investment opportunity for retail traders – thus helping the project's presale raise over $7.4 million in just over three weeks.
AiDoge looks likely to make its mark once listed on centralized exchanges (CEXs), an event scheduled for Q3 2023.
These CEX listings could be a catalyst for tremendous price growth, given AiDoge's unique setup. Per the project's whitepaper, users can instantly create memes using AiDoge's "meme generator," powered by AI.

Not only that, but users will also be able to earn $AI tokens by creating hilarious memes that the community loves. This setup works through the "public wall," which features user-created images that can be upvoted or downvoted.
Using AiDoge's meme generator, meme coin lovers can produce viral-worthy memes without any photo-editing experience and instantly upload them to Twitter and Reddit for the world to see.
AiDoge's development is nearing completion, although investors can still buy $AI tokens through the presale before the project's launch. The presale is now in Stage 11 out of a possible 20, with $AI tokens priced at $0.00003 – 12% below the intended listing price.
You can visit the AiDoge presale here.
$SPONGE Token Absorbs the Market's Attention After Huge Pumps
Sponge ($SPONGE) is another innovative meme coin that's been capturing the crypto community's attention.
Just as AiDoge combines memes and AI technology, Sponge is leveraging its iconic namesake to make a splash in the crypto market.
The official Sponge Twitter account has just breached 40,000 followers, showcasing the solid community backing that's currently benefiting the token.
This community backing has helped $SPONGE reach a market capitalization of over $13.4 million, per CoinMarketCap – and it seems that the project is just getting started.
Over the past week, the $SPONGE token has been listed on seven CEXs, including Gate.io, LBank, and MEXC. These listings have caught the attention of several crypto influencers, with moonpie666 recently tweeting a meme about Sponge to her 20,000+ followers.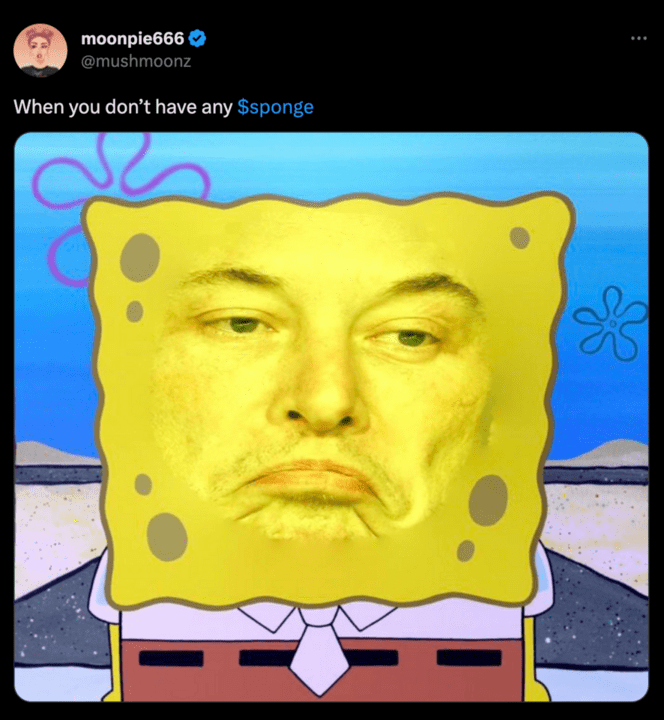 At the time of writing, $SPONGE is trading for $0.00054, with the price having pulled back in recent days.
However, there's a growing belief amongst investors that the coin could be gearing up for another price rally, given the traction it's now experiencing on social media.
With DEXTools.io reporting that over $1.8 million worth of $SPONGE was traded in the past day on Uniswap alone, along with one buy order valued at $91,000, it appears the token still has exceptional backing – a factor that will undoubtedly play a role in Sponge's future growth.
You can buy $SPONGE tokens here.
Disclaimer
This article is sponsored content and does not represent the views or opinions of BeInCrypto. While we adhere to the Trust Project guidelines for unbiased and transparent reporting, this content is created by a third party and is intended for promotional purposes. Readers are advised to verify information independently and consult with a professional before making decisions based on this sponsored content.