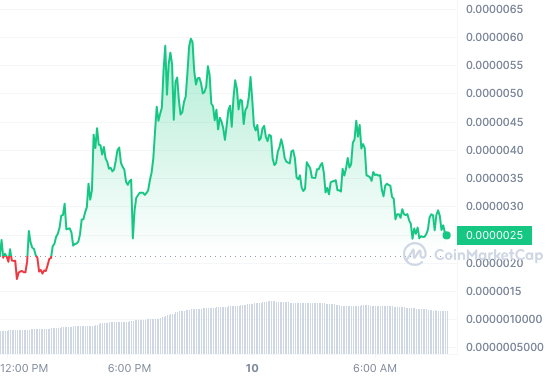 Meme coins are currently gaining a lot of attention and breaking daily trading records with high volumes. 
One making the rounds is the Hong Kong meme coin which has surged over 1,000% in the past week.
This new sensation has many investors placing it in the same fold as the $PEPE token. 
Meanwhile, investors are optimistic about the potential of $WSM and $ECOTERRA tokens for significant upward trends.

$KONG's Strong Daily Uptrend Continues to Grow
In a largely taciturn market, meme coins have been the buoy on which the crypto space has relied. 
So far, the parody coin sub-sector has produced some of the most blockbuster projects that have gone on to enjoy mainstream adoption.
The new wave of meme coin stars began with the $PEPE token, rising to worldwide prominence after it surged to $1.6 billion in market valuation. 
While its meteoric rise has since tapered, $PEPE is still one of the most traded meme coins in the crypto space.
Now, a new meme coin called Hong Kong has the potential to become the next $PEPE. 
At press time, its native token, $KONG, is trading at $0.0000025, indicating an uptrend of 29.58% in the past day. 
The asset's weekly performance has been the most impressive of the lot, with the meme token rising above 1,000% in the past week. 
This has seen it trend above $PEPE, $SPONGE, and other top meme coins on DEXTools. The meme token has snapped up over $1.2 million in market cap.
Given that it is less than two weeks since its launch, this is a significant milestone for the ape-like token. 
Hong Kong is a meme coin project created solely for entertainment purposes. However, with a 0% buy or sell tax and a robust liquidity pool, many people have jumped into the project. 
Nonetheless, the crypto space is constantly churning out priming gems. Two of such are the $WSM and $ECOTERRA tokens.
Wall Street Memes ($WSM): Tokenizing the Internet's Triumph Over Capitalism
If there is one thing that the crypto space is known for, it is the ability to radicalize an industry. 
This force came into play in the GameStop debacle that saw retail investors join forces to buy up shares of struggling companies.
Out of that situation, a movement called Wall Street Memes has been crafted. 
Developed by the same team behind the famous Wall Street Bulls NFT collection on Ethereum that sold out in under 32 minutes, this meme project is a symbol of the internet's ultimate triumph over rampant capitalism. 
The project aims to provide retail investors an avenue to profit from the crypto space, just like deep-pocketed investors and companies are doing.
Despite holding little intrinsic value, Wall Street Memes represent a belief system, and its collection of internet memes has already attracted over one million community members and generated over 400 million impressions. 
Also, it has drawn the attention of Twitter and Tesla boss Elon Musk who has interacted with the project.
Given Musk's influence on the crypto space, many crypto analysts believe that the $WSM token could easily make a tier-1 listing once its presale ends. 
In addition, the Wall Street Memes team has also launched a Bitcoin iteration of its NFT collection called Wall Street Ordinals NFT. 
This shows that the project is in trend, given the growing popularity of Bitcoin-focused collectibles.
So far, the $WSM token has enjoyed a successful token presale window. The meme token has raised over $5.79 million within a few weeks of its launch. 
Early-bird investors can purchase $WSM at its current presale price of $0.028. 
Buy $WSM Here
Ecoterra ($ECOTERRA): Green Blockchain Initiative With R2E Element
Although not a meme coin, ecoterra is another top blockchain initiative that has drawn interest from several ESG-minded investors. 
Given the growing concern around climate change and our carbon footprint, many world governments are calling for more immediate steps to stop the rising environmental issues.
Ecoterra brings sustainability as it allows users to directly recycle their glass, plastic, and aluminum materials and reduce their carbon footprint. 
In return for impacting the environment, ecoterra allows users to earn cryptocurrencies using its recycle-to-earn (R2E) mechanism.
Not exclusive to individuals alone, the project offers a carbon offset marketplace that allows companies looking to reduce their greenhouse emissions to buy carbon credits and offers environmentally-friendly products and services. 
Also, companies can use the ecoterra AI-derived database pool to offer better services to their loyal customers in return for reward points and digital collectibles.
Moreover, the blockchain project also offers a mobile app that allows users to directly track their impact on their environment. 
This makes it more subjective and raises each user's commitment level. 
The ecoterra project is powered by the $ECOTERRA token, which is also in its presale stage. 
So far, the project token has raised over $4.94 million, and investors can buy $ECOTERRA at its current presale price of $0.00925 before the next price hike.
Buy $ECOTERRA Here
Disclaimer: Cryptocurrency projects endorsed in this article are not the financial advice of the publishing author or publication – cryptocurrencies are highly volatile investments with considerable risk, always do your own research.