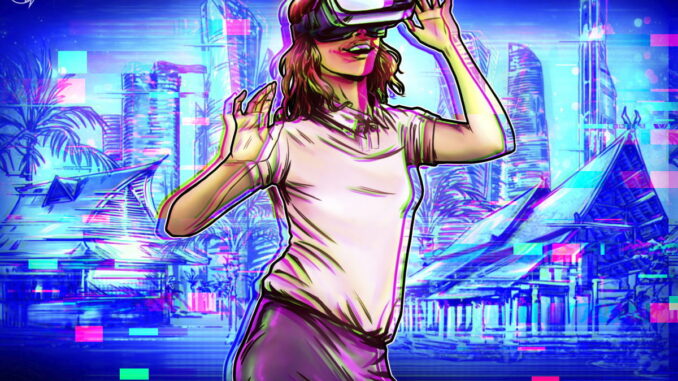 Individual creators and brands will ultimately determine the future of the metaverse, as opposed to any centralized entity, according to the co-founders of The Sandbox.
On Nov. 3, the team behind the Ethereum-based metaverse launched The Sandbox Map, allowing "LAND" owners to publish their own experiences without needing to partake in an application process (which was previously required).
"Now [anyone] can open their experience to the public [and] make it accessible, which will increase the amount of experience and content that people can play and discover on the platform," Sandbox co-founder Sebastien Borget told Cointelegraph at Hong Kong FinTech Week on Nov. 2.
In a statement regarding the launch, Sandbox said the launch marks a "pivotal advancement" toward accelerating user-generated content on the platform.

#CreatorsDayHK is LIVE!

Livestream all the key events on X or our YouTube channel: https://t.co/83NqKyOTDr

We've got some exciting news that you won't want to miss. Stay tuned to see what's in store for the metaverse! pic.twitter.com/ReUQahbckP

— The Sandbox (@TheSandboxGame) November 3, 2023
The notion that users can create and own content and property in Web3 is at the forefront of Sandbox's strategy, Borget iterated.
"They discover blockchain not because of the value of the asset, but because they can create content."
Updates to Game Maker and a new fund
Sandbox said it will also update its Game Maker tool before 2024, its experience-building and testing tool that is set to introduce new gameplay mechanics, templates and social interactions to make content production even easier.
The firm will also launch a new 100 million SAND Game Maker Fund (currently worth $36 million) next year to build on those updates.
Borget said this will drive engagement across a range of industries:
"[It will] drive more engagement, more replayability, more fun and new social interaction as we define the future of music, the future of fashion, sport, entertainment, art and culture on the platform."
Borget said Game Maker's tools have simplified the process for new creators to get started:
"Game Maker has been a gateway to bring a new breed of creators that then design new experiences and then over time monetize it by selling on marketplace and introducing their own."
Meanwhile, Sandbox co-founder and CEO, Arthur Madrid, said the firm has helped connect brands to fans of late by running contests to rebuild New York's Times Square and architectures in The Walking Dead, among other things.
The firm is working to incorporate multiplayer capabilities which will drive this audience engagement. But Madrid acknowledged the difficulty with integrating multiplayer capabilities in metaverses at scale, particularly on blockchains.
ROYAL FLUSHED Hold your breath and dive in the Sunken District. Find your way through this Bomkus-designed underwater maze and back to the surface.

Dive in TODAY! https://t.co/bK636FFLLW#DrBomkusTrials pic.twitter.com/8Nui4b1UKU

— The Sandbox (@TheSandboxGame) November 1, 2023
Related: Metaverse 'explosion' will be driven by B2B, not retail consumers: KPMG partner
Over 400 partners have signed up to The Sandbox, including Warner Music Group, Ubisoft, Gucci Vault, Snoop Dogg, Invincible, and Adidas.
Looking ahead however, Borget acknowledged that metaverse adoption won't take off until more defined use cases are established in virtual worlds, as incoming users are ultimately looking for memorable experiences to gravitate towards.
Sandbox noted Asia makes up 31% of the platform's growth, with Hong Kong leading the way in the region. "[Government] officials are embracing the technology and that enables the private sector to also grow," Borget said.
Magazine: Web3 Gamer: Apple to fix gaming? SEC hates Metaverse, Logan Paul trolled on Steam
Individual creators and brands will be the ones shaping the next generation of the metaverse, rather than any centralized entity, according to the co-founders of The Sandbox.