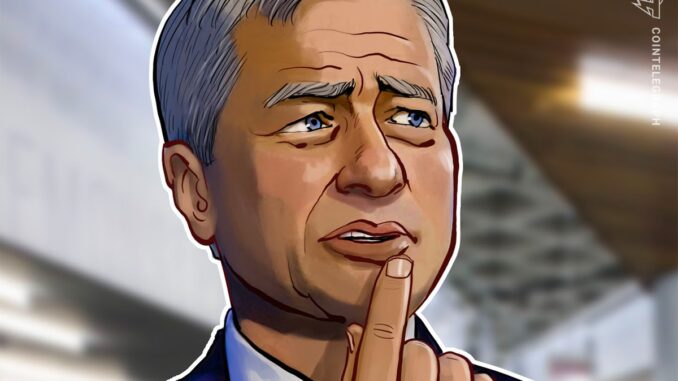 The CEO of JPMorgan Chase — which recently took over failed First Republic Bank — believes there could be more pain ahead for United States banks if the Federal Reserve goes into crisis mode with overregulation.
In a Bloomberg television interview on May 11, JPMorgan Chase Chair and CEO Jamie Dimon said he believes it's "going to get worse for banks" unless the Federal Reserve takes proactive measures beyond simply creating more regulations.
Three major U.S. banks collapsed in just the first few months of the year, including Signature Bank, Silicon Valley Bank and First Republic Bank. 
Dimon said that it's "a supervision problem" with the bank CEOs and board members as "people to blame," albeit related, as supervisors usually focus on if they are abiding by regulations.

However, Dimon believes adding more regulations to The Federal Reserve's already 200,000-page long stress test is not the solution to the current banking crisis.
He argued that more regulations make it harder for banks to conduct business, noting that "some of these community banks now have more compliance people than loan officers."
Instead, he proposed taking a holistic approach when modifying regulations. He noted:
"In a lot of ways is to mix the rules. If you're going to change liquidity, maybe not Capital. If you're going to change Capital, maybe not liquidity."
He further questioned the effectiveness of stress tests, as companies that completely focus on "that one stress test," could be overlooking issues, such as historical events that "always happen" again.
He believes that focusing solely on one stress test gives a "false sense of security."
Dimon suggested that that the Federal Reserve never saw issues emerging in the banking industry, noting that "not one Fed governor forecasted" the banking crisis.
Related: JPMorgan sees advantages in deposit tokens over stablecoins for commercial bank blockchains
This is not the first time a JPMorgan executive has expressed issues with banking regulations in recent times.
Bob Michele, the chief investment officer of J.P. Morgan Asset Management stated in an April 27 Bloomberg television interview, that First Republic Bank's liquidity issues "should never have happened," as banking is the "most heavily regulated capitalized industry on the planet."
In more recent news, it was reported on May 1 that JPMorgan is set to acquire First Republic Bank's (FRB) assets, after its previous efforts to rescue it failed.
1/ On Monday, JPMorgan Chase acquired a substantial majority of assets and assumed certain liabilities of First Republic Bank from the FDIC. https://t.co/2a3bnTJJJW

— First Republic (@firstrepublic) May 5, 2023
Magazine: JPMorgan sees higher BTC price potential, a16z unveils $4.5 billion crypto fund and PayPal hints at more crypto involvement: Hodler's Digest, May 22-28