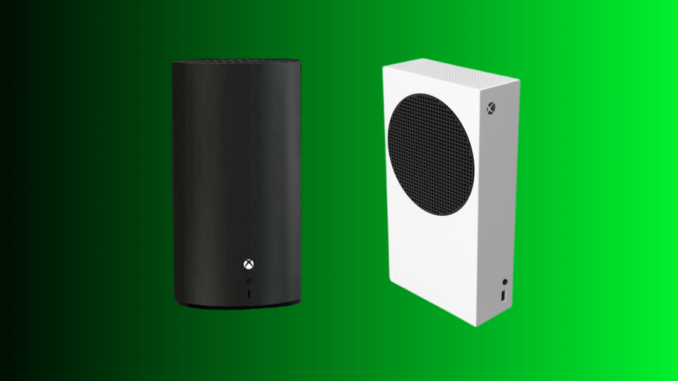 The next generation of Microsoft's Xbox console is potentially five years away—but new versions of the current Xbox Series X and S consoles will apparently be released in 2024.
That's according to documents revealed in the FTC's case against Microsoft over its planned acquisition of game publisher Activision. The documents were apparently not intended for release without redactions, but ultimately made it to public view in full.
Microsoft's vision for its next-generation console, per documents posted in the case, is to create a platform that merges "the combined power of the client and cloud" to offer gameplay performance that goes "beyond the capabilities of the client hardware alone."
Such a platform won't be available until 2028, however, according to a Microsoft graphic from a "Roadmap to 2030" deck that shows the company's timeline of previous and future console releases. The focus for the unnamed next-generation Xbox console is to offer cloud-hybrid gaming support.

The next console may also offer broader utility beyond just video games. Microsoft has dubbed it an "immersive game and app platform." It's possible that Microsoft could be positioning the next Xbox as a console competitor to the Apple TV or the upcoming Apple Vision Pro.
Considering that current-gen consoles already offer apps like YouTube and Netflix, as do many modern smart TVs, it remains to be seen what exactly the 2028 console will offer to fans that they haven't seen before on the app front. Perhaps cloud processing will change the game, as Microsoft predicts that the "cloud-first" market will continue to grow, according to an image shared in the filing.
In the more immediate future, gamers have a new Xbox Series X edition, codenamed "Brooklin," to look forward to with a cylindrical design and no disc slot. The revised Xbox console will reportedly cost $499 and come with a new controller design. The Brooklin, which visually resembles a Sonos speaker, promises gamers a more energy-efficient device with a USB-C port on the front, 2TB of internal storage, and an upgraded Wi-Fi connection.
The Xbox Series S is also getting a refresh with the "Ellewood" update, which will have the same look as the current Series S and cost $299. The Ellewood will be a more energy-efficient model than its predecessor and offer faster Wi-Fi connectivity plus 1TB of storage space, according to Microsoft's leaked documents. 
Per the documents, Microsoft plans to launch the Brooklin and Ellewood console renditions in October and August 2024, respectively. It's also worth noting that these codenames are likely placeholders and may change prior to release.
The new editions of the Series X and S will come with the new "Sebile" controller, which offers a duotone black and white aesthetic, modular thumbsticks, quieter buttons, a rechargeable battery, and haptics that can also work as speakers. 
Overall, the promised upgrades for the Xbox and its controller aren't major—they're more like minor upgrades that make a handful of quality-of-life and sustainability improvements to the latest-gen consoles. For more dramatic upgrades, Xbox fans will have to wait until 2028.
Stay on top of crypto news, get daily updates in your inbox.