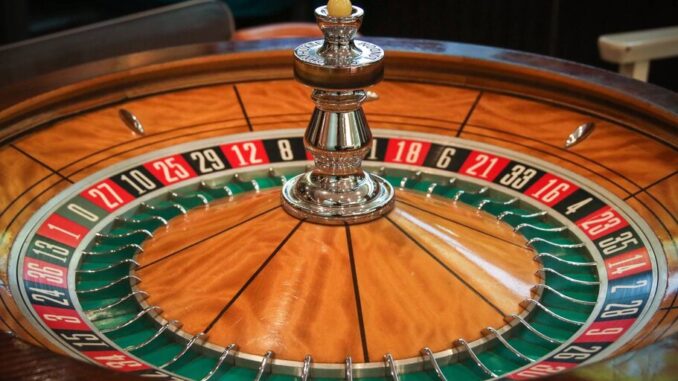 When it comes to high-stakes bets and trades, few on Crypto Twitter have amassed a fervent following like pseudonymous influencer Gainzy. Now he's made waves for swapping a sponsorship with one crypto gambling site for a competitor, as the former platform's utility token takes a tumble.
While Members of Parliament in the UK have compared regular crypto trading to gambling, Rollbit and Stake.com are examples of popular platforms that specifically tap blockchain tech in areas like sports betting and casino games, while catering to degens.
"After careful consideration, I've left Rollbit and partnered with Stake," Gainzy said on Twitter. "First live stream tonight […] Let's fucking gamble."
As Gainzy swaps one sponsor for another, they join the ranks of rapper Drake. The artist backs Stake.com and has a highlight reel of wins up high on his Instagram page for his 142 million followers to see—alongside the occasional payout post.

Gainzy's wagers tend to generate social buzz, but the influencer's sponsorship with Stake.com has had a relatively quiet start. A gambling livestream titled "plz work" generated around 140 views on Monday, compared to their 200,000 Twitter followers.
After encountering technical difficulties on Tuesday, the influencer said the "misery" of setting up for a one-hour stream was too much, offered to pay top-dollar for some help, and then signaled he would have a "beer and a swim to decompress."
Regardless, a token associated with Rollbit fell after Gainzy signaled he was shedding his sponsorship. Rollbit Coin, dubbed the gambling platform's utility token, was down 5.3% to $0.124 over the past day, according to CoinGecko.
"What could be better for Gainzy than playing these casinos against each other like a fiddle?" Crypto Twitter influencer Gabriel Haines told Decrypt. "He's probably making at least six figures a month streaming slots—what a way to live."
Gainzy did not immediately respond to a request for comment from Decrypt.
Even though degens have displayed an aptitude for betting of all forms, no-matter how nascent—think, the short-lived success of on-chain hamster races—sponsorships with online personalities are a common method for gambling sites to drive attention and traffic.
Market trading as if Rollbit's only profits were from gainzy's losses

— Evanss6 (@Evan_ss6) September 18, 2023
Follow the Money
Gainzy became sponsored by Rollbit last December, according to one of many now-deleted Tweets. At the time, the influencer said Rollbit was "objectively the best on the market" due to a referral link that gave gamblers 10% back on sportsbook losses.
Since Gainzy's sponsorship took shape, Rollbit Coin has notched notable gains, according to the influencer themself. Gainzy has highlighted the token's $0.02 price at the time he joined several times while talking about the platform on Twitter.
As Rollbit garnered intrigue in July, Gainzy took the opportunity to clarify on Twitter where his commission on referrals went.
"Now that Rollbit's got renewed interest, it's time to once again shameless[ly] shill the ref[erral]," they said. "The ref[erral] commission isn't going to donations, it's going to degenerate trades and sportsbets."
Around two months into their sponsorship, Gainzy claimed on Twitter that they had wagered over $10 million on Rollbit. A month later, the influencer then claimed, "Everything I bet is my own funds, and the funds I've received from Rollbit constitute a minuscule part of my overall volume."
While Gainzy's sponsorship with Rollbit has generated notable exposure for the platform, a person involved in its creation acknowledged Rollbit's sportsbook business isn't leading the charge on Tuesday.
A pseudonymous co-founder of Rollbit, Lucky, said on Twitter the company's "sportsbook revenue is lagging behind for now" compared to "record-braking volumes" across the site's other revenue streams.
Lucky did not immediately respond to a request for comment from Decrypt.
Record breaking volumes across our three revenue streams in the last 24 hours has resulted in $2MM+ revenue and over $300,000 in $RLB burned 🔥

The RLB burned today equates to just under 0.1% of the circulating supply!

Sportsbook revenue is lagging behind…for now 🛠️ pic.twitter.com/RclDHBMntK

— Lucky (@Lucky_Rollbit) September 19, 2023
Stay on top of crypto news, get daily updates in your inbox.