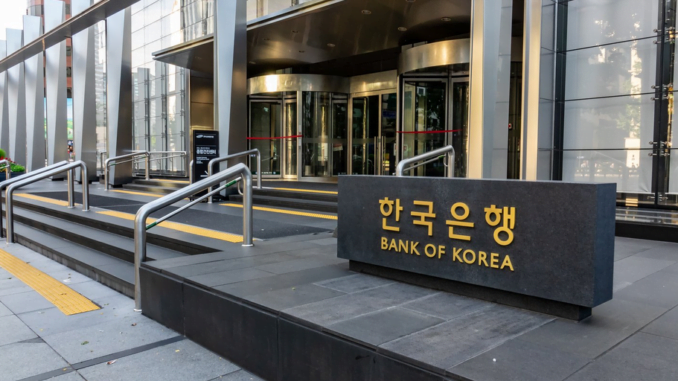 Samsung Electronics announced its partnership with the Bank of Korea (BOK) to jointly conduct research aimed at developing an ecosystem for a central bank digital currency (CBDC).
Both parties signed a memorandum of understanding (MOU) at Samsung's headquarters in Suwon, Gyeonggi Province, according to a Korea Herald report. Under this agreement, Samsung and the BOK will be conducting further research into the CBDC issued by the BOK, as well as collaborating in the offline payment sector.
A CBDC is a digital currency issued by a central bank, and many countries, including the U.S., are exploring the launch of their own CBDCs to facilitate more transparent and secure transactions.
"It is meaningful that (the BOK) was the first to come up with the offline CBDC technology with Samsung Electronics," Bank of Korea Deputy Governor Lee Seung-heon said in a statement.

Lee added he hopes "that Korea can take the lead in offline CBDC technology […], as central banks across the world are actively working on it."
Samsung previously participated in the BOK-led CBDC pilot project last year, during which it developed offline CBDC technology to enable device-to-device transfers and payments through near-field communication (NFC), even when both the sender's and recipient's transaction devices were not connected to the internet.
This is made possible by a chipset that is built into Samsung's mobile devices, equipped with advanced security features.
Today's MOU means that the collaborative efforts between Samsung and the Bank of Korea will also focus on letting users to make payments using Samsung's Galaxy smartphones and Galaxy Watch, even in situations where online networks are unavailable, such as during disasters.
"We were able to apply Samsung Electronics' advanced security technology on digital currency through cooperation with the BOK," Samsung's Mobile eXperience executive vice president Choi Won-joon said. "Through the two sides' cooperation, we can attribute the growth of global offline CBDC technology."
It is worth noting that it's been already two years since Samsung added support for third-party cryptocurrency hardware wallets, including the Ledger Nano S and Nano X, to its range of Galaxy smartphones.
Samsung and the Bank of Korea did not immediately respond to Decrypt's request for comment.
CBDCs take center stage
State-backed digital assets have long been discussed and piloted around the world. This year, though, various politicians, specifically those in the United States, have voiced stern opposition against CBDCs.
A primary concern among individuals like Democratic presidential candidate Robert F. Kenney Jr. and Florida Governor Ron DeSantis has been that of maintaining users' privacy. Just last week, DeSantis signed a bill that banned the use of a centralized digital dollar in the Sunshine State.
Elsewhere, Texas Senator Ted Cruz has said that CBDCs are designed to "destroy all the value of Bitcoin."
In the United Kingdom, the CEO of Quant, a key infrastructure provider for CBDCs, assured audience members during a recent event that privacy concerns may be overstated.
"We can categorically state that the central bank does not care how much people spend on sandwiches, it's not their mission," Verdian said at the Financial Times Crypto and Digital Assets Summit. "What is happening is the same rules of AML, KYC are going to be applied to central bank currencies as they are today to any other form of money from commercial banks."
Stay on top of crypto news, get daily updates in your inbox.