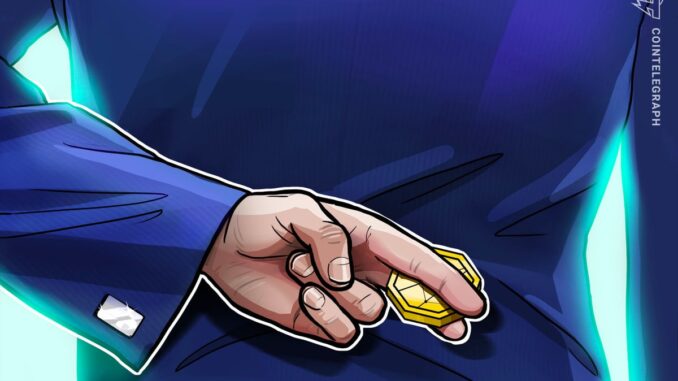 Kim Nam-kuk, a member of South Korea's National Assembly, reportedly liquidated more than $4 million worth of crypto prior to lawmakers in the country enforcing the Financial Action Task Force's "Travel Rule".
According to a May 8 report from The Korea Times, authorities with the Korea Financial Intelligence Unit are investigating Kim for trading roughly 6 billion won ($4.5 million) in crypto assets before South Korea introduced the Travel Rule in March 2022. The lawmaker reportedly said he did not cash out the assets but rather transferred them to another exchange, also claiming he was not required to report such activity.
As a member of South Korea's National Assembly, Kim had some authority in handling laws related to digital assets, reportedly backing legislation proposing a 20% tax on crypto gains be deferred from 2023 to 2025. Kim has reportedly denied any potential conflicts of interest between handling crypto assets in his portfolio and ruling on them as a lawmaker.
"This is a serious moral hazard," said Hong Joon-pyo, mayor of the city of Daegu. "He should have left his job as a lawmaker and focused on speculative trading instead. On top of that, he stood at the forefront of delaying crypto taxation, which can be seen as an abuse of his legislative power for the protection of his private assets."

The report came as lawmakers in the United States are considering barring members of Congress from investing in stocks and, potentially, digital assets. At the time of publication, U.S. representatives and senators were largely required to report such investments but were not bound to abstain from voting or otherwise recluse themselves should potential conflicts of interest arise in legislation or regulations.
Related: Do Kwon lawyers received $7 million before Terra collapse: Report
South Korea has been included in many postmortem reports of the 2022 crypto market crash due to Terraform Labs co-founder and former CEO Do Kwon being a citizen of the Asian nation. Following Kwon's arrest in Montenegro in March, South Korean authorities have reportedly been seeking his extradition, as many of his alleged crimes affected the country's citizens.
Magazine: Terra collapsed because it used hubris for collateral — Knifefight