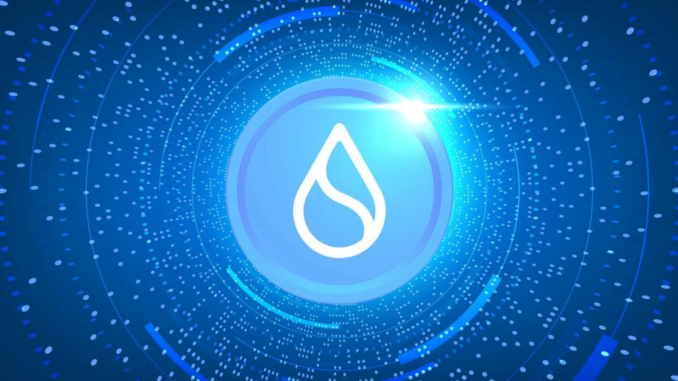 Sui's mainnet went live on Wednesday without a hitch, catapulting the layer-1 blockchain's SUI token into the top 100 largest cryptocurrencies by market cap. Yet, some traders are undoubtedly seeing red as SUI slides on its first day.
Since SUI began trading this morning on crypto exchanges like Binance, OKX, KuCoin, and Bybit, the coin has fallen roughly 37% to $1.37 from $2.16, according to CoinGecko. Its market cap currently sits at $716 million, blowing past meme coins like PEPE. 
According to its fully diluted valuation (FDV), which accounts for the value of tokens that aren't yet circulating, SUI is valued at an eye-popping $13.7 billion, as of this writing. The blockchain's total number of tokens is capped at 10 billion, and its initial circulating supply was around 528 million, equal to 5.28% of all tokens. 
The blockchain's development team Mysten Labs raised $300 million during a Series B funding round last fall at a valuation of $2 billion, according to Crunchbase, signaling a sense of buzz despite the chills of crypto winter.

The network is built around a proof-of-stake model, and its native token is used for staking, paying transaction fees, and participating in the blockchain's governance process.
Leading up to the launch of its mainnet, traders could get their hands on SUI in various ways, whether that was through a so-called Recognition Sale facilitated by Bybit or farming SUI on Binance's Launchpad.
KuCoin, OKX, and Bybit also participated in a token sale ahead of Wednesday, where they offered 225 million tokens each—notably, U.S.-based traders were forbidden. And SUI's price at midday Wednesday represented a notable bump compared to the token's pre-sale and initial coin offering (ICO) prices of $0.03 and $0.10, respectively.
Hours after Sui's mainnet went live, Binance accounted for a lion's share of the token's trading volume, which totaled over $941 million, according to CoinGecko. Binance accounted for around 55% of SUI volume, followed by Bybit (16%), OKX (11%), and KuCoin (8%). 
The Sui blockchain aims to deliver speedy transactions and improved scalability compared to other networks like Ethereum or Solana by leveraging a modified version of Move, a programming language that was originally developed by Meta (formerly Facebook) as part of the social media giant's failed Diem project.
The Sui blockchain has drawn comparisons to Aptos, a layer-1 blockchain that went live last October and has been dubbed a "Solana killer." Aptos also has Meta-based roots and leverages a form of the Move programming language.
While many other tokens were in the red on Wednesday, Aptos' APT token was down 2.7% to $9.61, as of this writing, according to CoinGecko. APT's trajectory looked similar to SUI's when it first launched, falling 40% when it first launched. 
Stay on top of crypto news, get daily updates in your inbox.