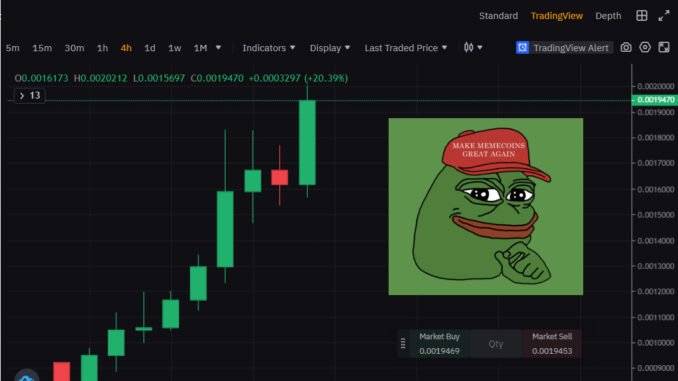 Twitter crypto analyst @lookonchain tracked one account that is really good at buying meme coins early, and the right ones.
Not only did the crypto expert make over a million dollars profiting from the Shiba Inu bull run back in 2021 – and still holds some of that SHIB – he's been holding PEPE and WOJAK tokens from a lot lower down too.
Trader Gets Rich Off Crypto Meme Tokens – His Moves
To get started in crypto domination, the 'smart money' as Lookonchain refers to them, invested in Shiba Inu in January 2021 with $96,500He took profit to the tune of $1.18 million so far, and factoring in the unrealized gains on the SHIB coins he still holds, is up closer to $2 millionHe then invested $36,000 in Pepe and $61,000 in Wojak, those two positions currently now worth $95,000 and $329,000
Pepe Coin Price Continues to Pump
The Pepe price has exploded 25,000% in the past two weeks, 1,000% since being listed on centralized exchanges, and is up 80% today, with Bybit short positions about to pay 0.75% funding to longs heading into the Friday daily open.

During the last crypto bull run, Shiba Inu hit an approximately $40 billion market capitalization – making headlines for its valuation being higher than that of Deutsche Bank – and Floki Inu went to a $2.5 billion market cap.
Could Pepe continue its uptrend and break out above the $1 billion level – currently at an $820 million market cap – that remains to be seen. 
Having flipped FLOKI, the only meme coins standing in its way from becoming the largest meme crypto on the charts are SHIB with a $5.8 billion market cap and Dogecoin with $10.9 billion.
Next Big Meme Coin
Altcoin season is well underway for meme coins, with other assets with amusing names and little utility currently outperforming Bitcoin, Ethereum and rest of the crypto markets. 
Pepechain (PC), Wall Street Baby (WSB), BOB, Bogdanoff (BOG), HEX, DINO, PPIZZA, REDDIT, MONG, and others have been vying for position on the DEXTools trending crypto list.
Meme coins are volatile, high risk assets – but also high reward. Recently we wrote a piece on crypto expert Altcoin Sherpa's tweet thread saying they can be one of the 'easiest ways' to make money with cryptocurrency, due to their simplicity and being an inefficient market.
In that article our analysts tipped AiDoge (AI) as a potential outperformer once listing on exchanges, currently undergoing its presale at aidoge.com and today passing the $1.5 million milestone. 
We've also highlighted Spongebob (SPONGE) which was listed on Uniswap on Thursday.
Up 30% since our first article, $SPONGE token has a low market cap of just over $3 million.
Spongebob Token Video Analysis
100x altcoin hunter Jacob Bury buys some $SPONGE in the video above, and outlines his thoughts on the current state of the crypto market.
Update – the Pepe price is now up over 100% in the past 24 hours, one of the top crypto gainers today and hitting a $1 billion market cap at its peak of $0.0024.
Overall Pepe has risen approximately 83,000%.
Visit Spongebob Token Site