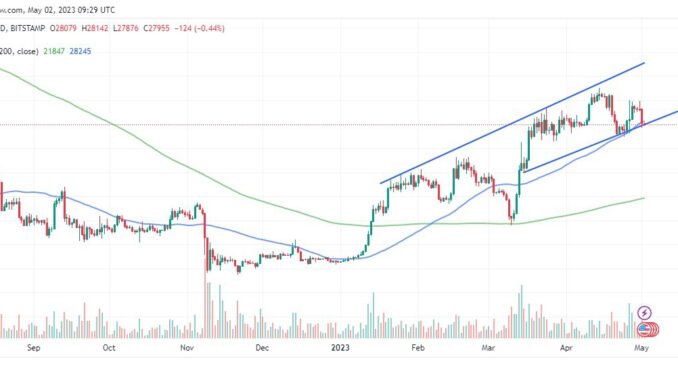 Join Our Telegram channel to stay up to date on breaking news coverage
The price of Bitcoin experienced a sharp decline today, dropping nearly 5% and causing it to dip below $30,000. This news is disappointing for those who support Bitcoin, as regulatory crackdowns and interest rate hikes continue to create fear in the market, dominated by inflation concerns.
Bitcoin Drops Below $30,000 as Regulatory Crackdown Fears Reignite
BTC faced challenges this week as it struggled to surpass a long-term rising trend line, resulting in a downturn. Currently, the market trades within a short-term price channel, with significant support provided by the lower boundary.
In the last 24 hours, Bitcoin has experienced a significant decline of 5%, dropping below $30,000 to a low of $28,500. The downward price trend can be attributed to fears of regulatory crackdowns, which have been reignited recently.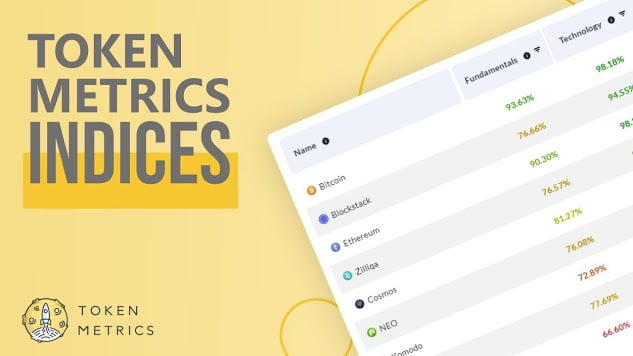 To continue the current pullback, the market would need to breach the lower boundary of this price channel. In that scenario, the initial levels of support can be found at $28,640 and $28,225 (Jan 2021 lows), with further support expected at $27,195 (April 2023 lows), $26,400, $25,414 (May 2022 lows), and $25,000.
Love Hate Inu Pumps to $10 Million
As Bitcoin undergoes its retracement, altcoin projects are experiencing a sudden resurgence. Love Hate Inu, a meme coin project, is particularly gaining traction in its presale, having raised over $10 million in just four weeks. The project aims to create a community-driven platform for creators, influencers, and fans. 
The presale for LHINU tokens is sold out, and some additional LHINU token now goes at a listing price of $0.000145 per token. 
Hey #LoveHateInu Gang! 🎉

The final stage of the $LHINU #Presale has sold out! 🚀

Thank you to all our voters, followers and future creators! 🙏 pic.twitter.com/tH9NBsaP18

— Love Hate Inu (@LoveHateInu) May 2, 2023
To promote the Love Hate Inu platform, the project has launched a voting competition and is selling its premium native coin. In this competition, a fortunate voter will win $10,000 for choosing whether they love or hate Andrew Tate, and the winner will be randomly selected. This is the last chance to acquire LHINU tokens at a discount before the platform's launch.
Love Hate Inu Gets Endorsement from Anonymous, CEO Speculates About Business Model Appeal
The CEO of Love Hate Inu, Carl Darkwins, is thrilled by the unexpected endorsement from the notorious hacktivist group Anonymous. Darkwins believes that this is the closest Anonymous has ever come to giving investment advice on a product, given their history of exposing governments. He speculates that Anonymous may be impressed with Love Hate Inu's business model, which prioritizes secure and transparent voting for individuals and nonprofits.
Thanks to the endorsement from Anonymous, Love Hate Inu has been propelled to the upper echelons of meme coins and crypto assets. With 11 million followers on their Facebook page, the Anonymous individual highlights the case of a crypto investor who turned $8,000 of Shiba Inu coins into $5.7 billion in just over a year. The post wonders whether Love Hate Inu could be the next big thing.  Buy LHINU today before time elapses.
Related
Love Hate Inu – Newest Meme Coin
Decentralized Polling – Vote to Earn
Early Access Presale Live Now
Ethereum Chain
Mint Memes of Survey Results as NFTs
Staking Rewards
Viral Potential, Growing Community
Join Our Telegram channel to stay up to date on breaking news coverage