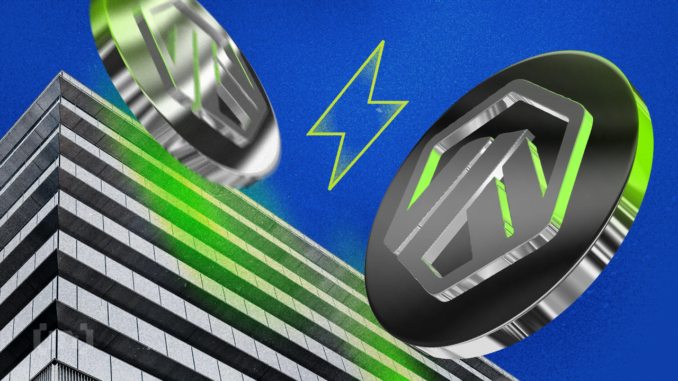 Since the crypto market downturn began on May 5, Arbitrum's (ARB) price has been in free fall. On-chain data suggests that sell action from whales is a critical indicator of a bearish Arbitrum price prediction. 
The current crypto market contraction has spread to Layer-2 tokens, and Arbitrum has been one of the worst-hit tokens. Following a 121 million airdrop in late April, some of the large investors on the Arbitrum network appear to have begun offloading their ARB tokens. 
Here's why this could lead to strategic investors positioning for a more bearish ARB price prediction in the coming days. 
Arbitrum Whales Are Dumping 
Arbitrum's biggest investors have recently started making major token sell-offs, according to on-chained data compiled by Santiment. 

With an aggregate of over 3 billion ARB in their wallets, the large institutional investors with balances of 10 million to 100 million tokens are the largest whale cohort on the Arbitrum network. 
The chart below shows how they have offloaded a whopping 440 million coins between May 5 and May 9. 
At the current market value of $1.10, the whales have sold $484 million worth of ARB coins in the last 3 days. When large investors enter a sell-off frenzy, as observed above, it could send bearish shockwaves across the Arbitrum ecosystem. 
Unless Abitrum reignites whale interest, the current bearish trend will likely linger.
Arbitrum is Losing Traction
Likewise, other critical on-chain indicators show that Arbitrum has been losing significant traction over the past week. Since May 1, the number of Daily Active Addresses on the Arbitrum network has declined steeply.
Between May 1 and May 9, ARB active users dropped 42% from 177,830 to 102,680, according to the on-chain data presented below.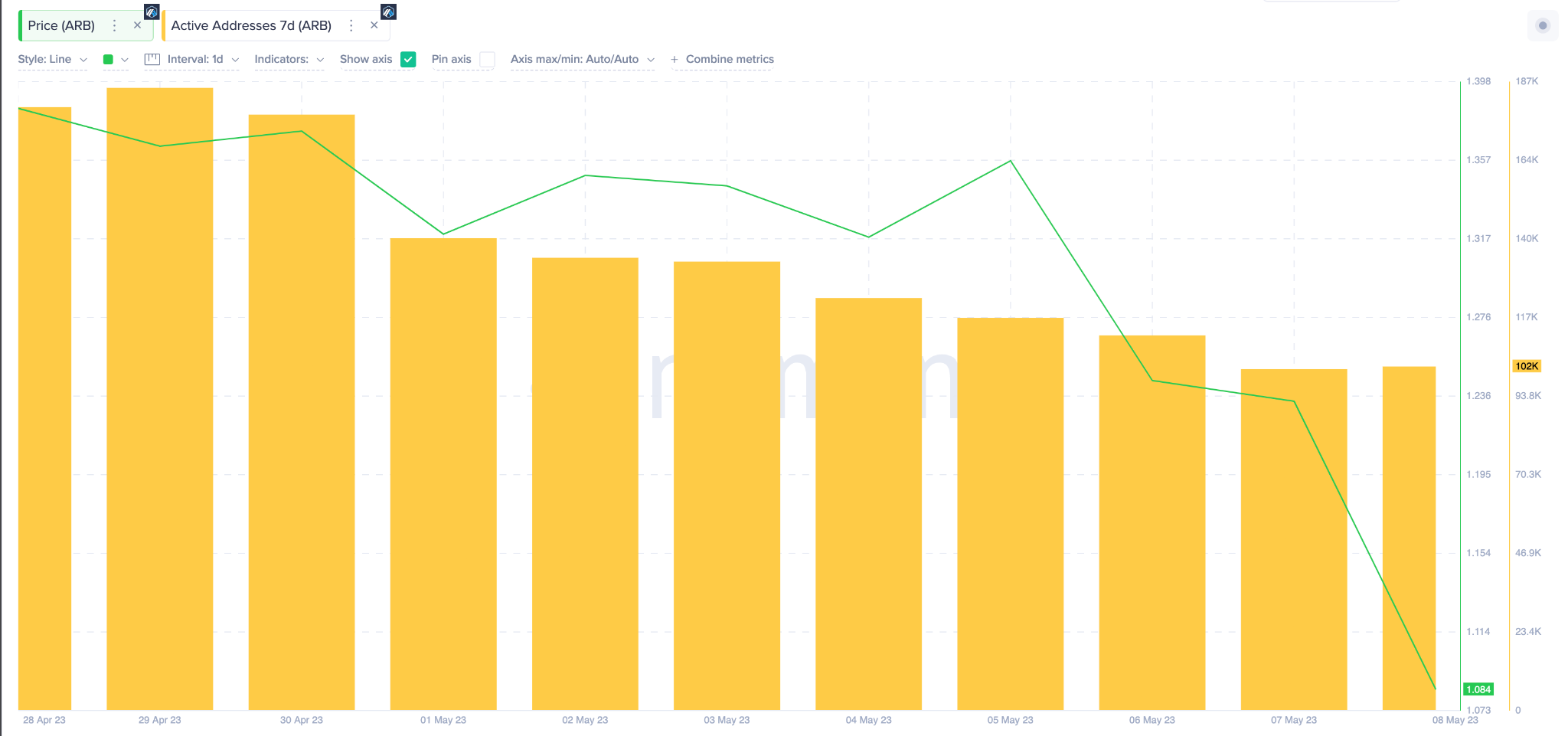 The Daily Active Address metric tracks the number of unique wallet addresses interacting daily on a blockchain network.
When it begins to drop persistently, it signals that users and investors could be losing interest in the underlying services offered on the blockchain network.
If the daily active addresses downtrend is not reversed, ARB could struggle to find new demand to propel it out of the current price downswing.
ARB Price Prediction: Could Drop Below $1
The Market Value to Realized Value (MVRV) ratio, which shows the financial position of current ARB holders, suggests a drop to $1 is the most likely price prediction. 
As things stand, the majority of crypto investors that bought ARB within the past month are still sitting on unrealized losses of about 14%. Historical data suggests they are likely to sell some more until the price decline by another 6% toward $1.04. 
However, if the bearish Arbitrum price prediction plays out, ARB could still drop 10% toward $1, before they stop selling.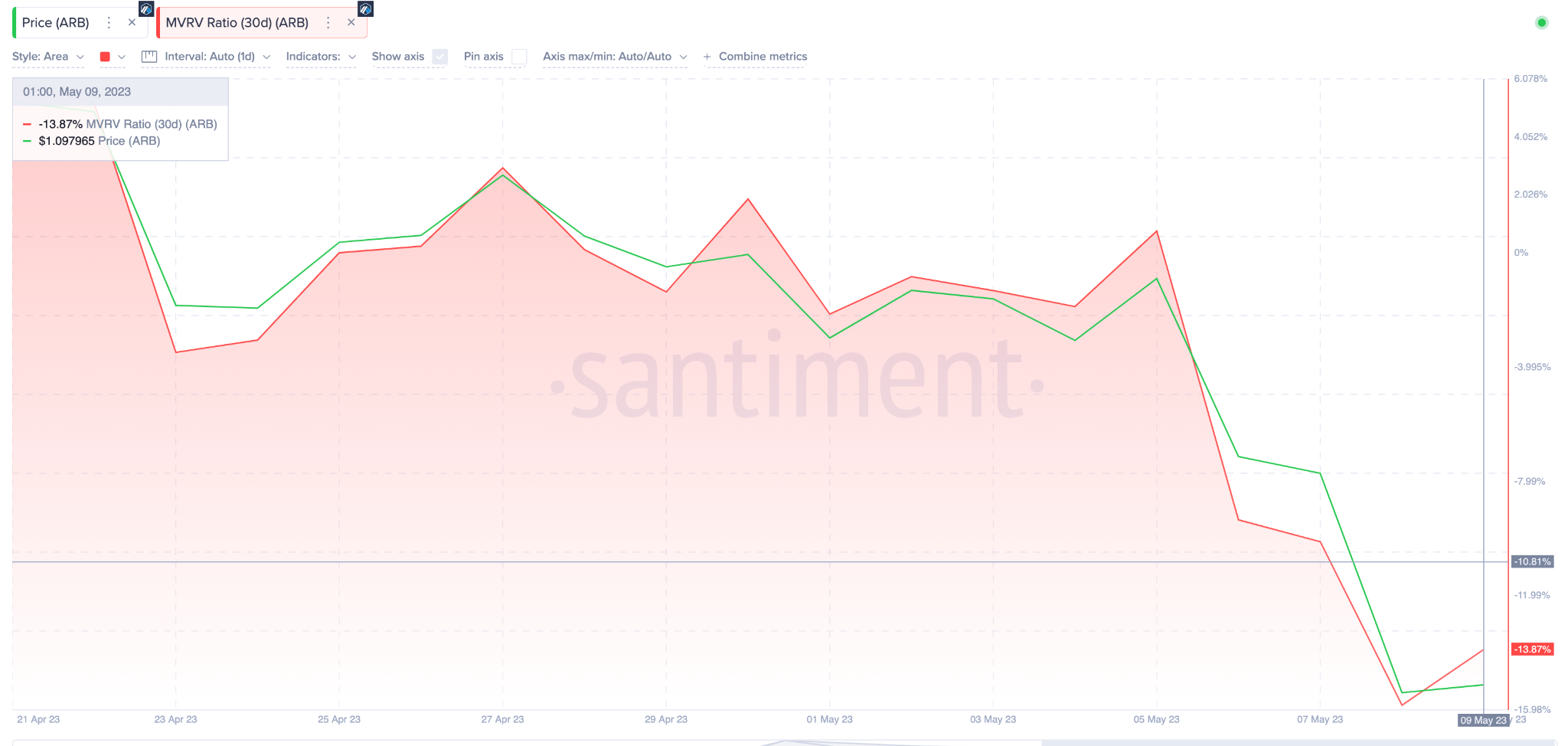 On the flip side, the bulls could negate the bearish price prediction if it rises above $1.25. At this level, the bears could sell once they break even and inadvertently trigger another downswing. 
Nevertheless, if the ARB can breach that resistance, the price could rally toward $1.35 before facing considerable downward pressure.
Disclaimer
In line with the Trust Project guidelines, this price analysis article is for informational purposes only and should not be considered financial or investment advice. BeInCrypto is committed to accurate, unbiased reporting, but market conditions are subject to change without notice. Always conduct your own research and consult with a professional before making any financial decisions.