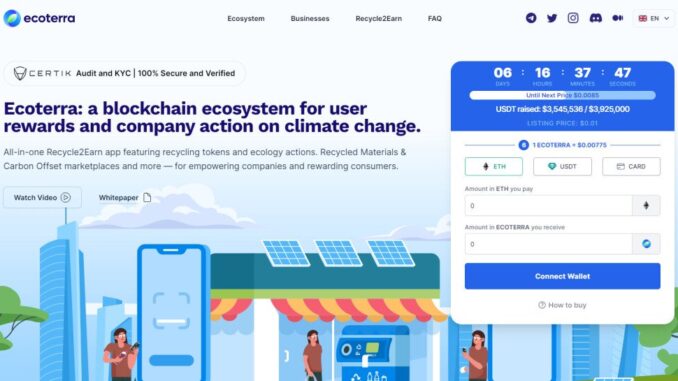 Ecoterra, an award-winning green Web3 project, has a presale that continues to attract much interest. 
The presale has already raised over $3.5 million, with investors rushing to buy ahead of a 10% price increase during the next stage.
Ecoterra presale raises $3.5 million
Ecoterra is a new project that uses a unique Recycle-to-Earn (R2E) system. 
The project has been created to support recycling and encourage individuals and organizations to reduce their carbon footprint.

The Ecoterra presale has already raised more than $3.5 million amid investors' growing interest in the project. 
The project has already won an award for contributing to a sustainable ecosystem during the Istanbul Blockchain Summit.
This award appears to have renewed interest in the green project. 
The raised amount so far shows that the crypto startup is attracting new investments at a rate of around $500,000 weekly.
Investors are rushing to buy the token ahead of a 10% price gain after the presale reaches $3.925 million, and the presale will enter the seventh stage. 
When this milestone has been achieved, the price will increase from the current $0.00775 to $0.0085. 
The ECOTERRA token will be listed on top cryptocurrency exchanges at $0.01 towards the end of this year.
Ecoterra has robust fundamentals
The CEO of Ecoterra, Mihai Ciutureanu, said that the negative effects of global climate change were becoming more apparent, and individuals and businesses were making an effort to safeguard the environment and to recycle, which is a key feature of the efforts.
Ciutureanu said,
However, an overwhelming majority of people lack the knowledge or willingness to recycle properly. Ecoterra aims to not only educate the public on the necessity of recycling but also to incentivise the public to recycle via offering financial rewards via our innovative Recycle-to-earn system.
Ecoterra's recognition during the Istanbul Blockchain Summit allowed the team to popularize the project. 
The fact that the Ecoterra project secured an award during this summit indicates that the message being promoted by this startup is gaining interest.
The summit also presented the team with an opportunity to hold talks with some of the largest centralized cryptocurrency exchanges and create an opportunity for ECOTERRA to be listed on these exchanges. 
Some of the cryptocurrency exchanges featured in this event include KuCoin, MEXC Global, and OKX.
The Ecoterra whitepaper says that the project will be launched across some of the largest cryptocurrency exchanges during the third quarter of this year.
The beta release for the Recycle2Earn application and the Recycled Materials marketplace will be released during the fourth quarter.
The Ecoterra project has surpassed half of the entire presale. 
The project is planning to raise $6.7 million through the ECOTERRA sale. Investors should rush to secure their tokens before the price increases again. 
The Ecoterra project will sell half of the total supply of 2 billion ECOTERRA tokens to the public during the presale.
Buy Ecoterra Now