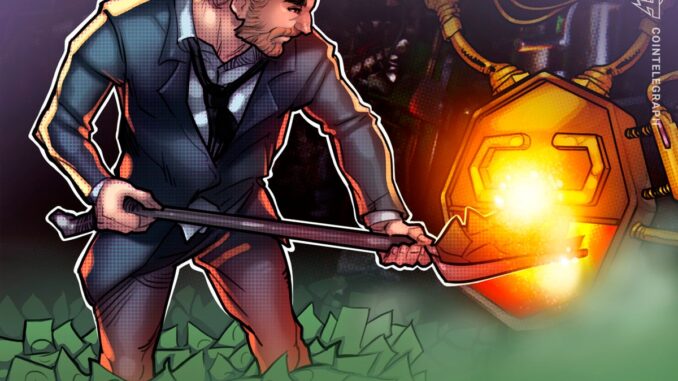 Three new crypto-focused exchange-traded funds (ETFs) have been put forward for approval by cryptocurrency asset manager Grayscale Investments, which also announced a new entity to manage its growing funds.
On May 9, Grayscale said it launched a new arm of its business — the Grayscale Funds Trust — allowing it to manage many of its publicly traded financial products in-house.
In addition to the new trust, Grayscale revealed it filed a registration statement with the United States Securities and Exchange Commission (SEC) for three new crypto-focused ETFs, despite previous roadblocks from the regulator over crypto-related ETFs.
The new funds comprise an Ethereum Futures ETF, a Global Bitcoin Composite ETF along with a Privacy ETF.

The Global Bitcoin Composite ETF would invest in exchange-traded products that are related to or backed by Bitcoin (BTC), including Bitcoin mining firms.
Similarly, the Ethereum futures ETF would allow an indirect exposure to the potential future value of Ether (ETH) by way of shares that track ETH's price.
The Grayscale Privacy ETF would invest in companies working on blockchain-based privacy technology, the filing explains.
NEW TODAY: We're proud to announce the formation of Grayscale Funds Trust, a Delaware statutory trust structure that enhances our capabilities as a global asset manager. Investors want and deserve access to future-forward investment opportunities, and Grayscale Funds Trust will… pic.twitter.com/qEeqwWHNSe

— Grayscale (@Grayscale) May 9, 2023
Until the registration statement relating to Grayscale Funds Trust is approved by the SEC, none of the three ETFs will be available for public purchase.
The announcement comes as Grayscale is still entangled in an ongoing conflict with the SEC over converting its $17 billion Grayscale Bitcoin Trust (GBTC) into a spot Bitcoin ETF product.
Related: GBTC approval could return a 'couple billion dollars' to investors: Grayscale CEO
On Jan. 13 Grayscale sued the regulator for denying its application, arguing the SEC acted indiscriminately in treating crypto spot traded exchange-traded products differently from futures products.
1/ As part of our suit challenging the SEC's decision to deny $GBTC conversion to a spot #bitcoin #ETF, @Grayscale just filed our Reply Brief with the DC Circuit Court of Appeals. Here's what you need to know:

— Craig Salm (@CraigSalm) January 13, 2023
"There is a 99.9% correlation between prices in the Bitcoin futures market and the spot Bitcoin market," Grayscale stated in its brief against the SEC.
While the SEC has approved a number of Bitcoin Futures ETFs — which expose buyers to the potential future value of BTC — it has so far rejected every application for a spot Bitcoin investment product, citing concerns about exposing investors to potential fraud and market manipulation.
Magazine: $3.4B of Bitcoin in a popcorn tin — The Silk Road hacker's story